Estimated read time: 2-3 minutes
This archived news story is available only for your personal, non-commercial use. Information in the story may be outdated or superseded by additional information. Reading or replaying the story in its archived form does not constitute a republication of the story.
John Hollenhorst ReportingThe disaster at the Crandall Canyon Mine has inspired a sculptor to create a new statue to remind people of the tragedy. The way he chose to portray it may surprise you.
Shortly after the Crandall Canyon mine disaster, Gary Prazen set aside the project he was working on, grabbed some clay and started a new one.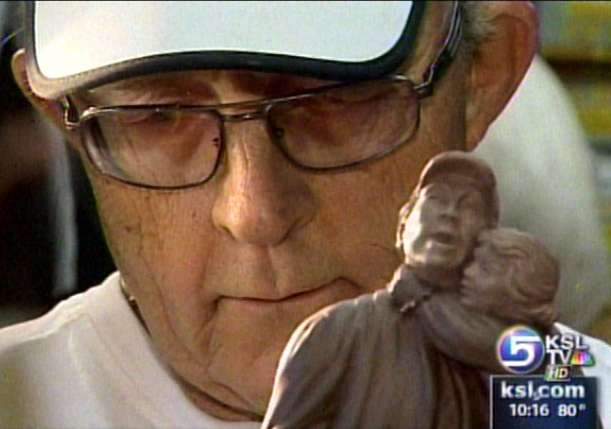 Prazen says, "Everybody kind of reacts in a different way. As an artist, this is the way maybe I express myself. You know, I just had a feeling for this, so I just started working on it."
For more than two decades, he's specialized in sculpture about mining and tragedy. His monument to the Wilberg mine disaster stands in front of the Emery County Courthouse. Assistants are finishing the tenth copy of that statue; eight have sold all over the country.
Prazen built his own foundry and makes his own bronze. His assistants pour molten metal into molds produced from his clay models.
His statues are bought by the National Safety Council, the mining industry, by people all over the world who care about miners and their safety.
"Why practice safety? Why be safe? It's not just for yourself. It's for all your loved ones too," Prazen said.
His dad and granddad were coal miners. Maybe that's why his Crandall Canyon sculpture shows his viewers a happy, safe homecoming.
Prazen says, "They already feel the tragedy, that's already been felt. So I think what we can do is I can present sculpture for the living, and not so much for the dead. The family and the happy side of mining is a very real thing. And I think there'll probably be people who feel what I feel with it, and maybe that will make some guys want to be a little more safe, too, when they're down there."
So instead of showing disaster, his Crandall Canyon sculpture conveys what was lost when nine men did not return safely to their families.
Prazen expects to finish his bronze statue in a few months. At this point, he has no customer in mind to buy it.
×
Related links
Most recent Utah stories