Estimated read time: 2-3 minutes
This archived news story is available only for your personal, non-commercial use. Information in the story may be outdated or superseded by additional information. Reading or replaying the story in its archived form does not constitute a republication of the story.
Tonya Papanikolas Reporting The beginning of the school year can be tough for students, not just because of worries and expectations, but also because some of the older schools in the state have no air conditioning.
Teachers and administrators at Midvale Middle School say the heat definitely affects the students, and they're trying to do everything they can to keep the students cool.
Students may want to give 100 percent in class, but it can be tough when their focus keeps drifting to how hot it is. "[I notice it] quite a lot, sitting in classes, going through the halls," seventh-grader Timothy Pettridge said.
Midvale Middle is one of 15 schools in Jordan district that doesn't have air conditioning. When it's this hot outside it doesn't take long before the kids start feeling lethargic. "It's hard for the kids, I think, to pay attention and try to keep up a good energy level," said teacher Noelle Reynolds.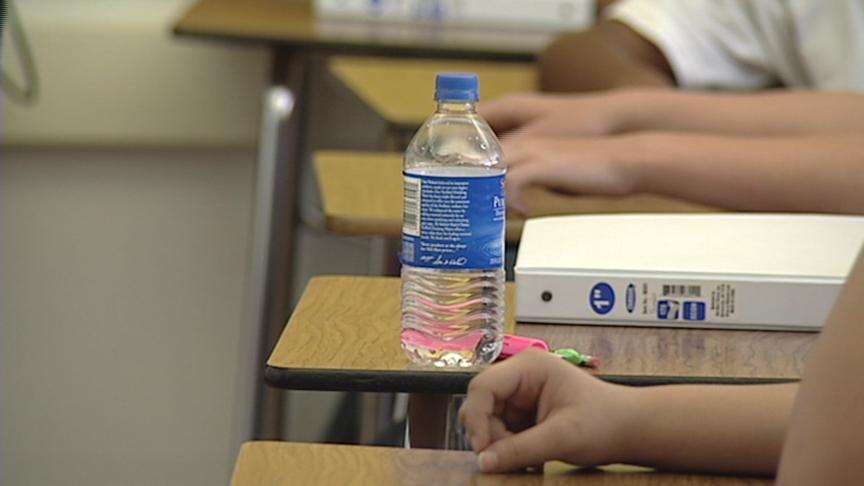 The students are encouraged to drink as much water as they can, sometimes even during class. "We just took a water break just to, well, for one thing, I needed water," Reynolds said smiling.
And many of them bring their own water bottles. "I fill it up for every class," Pettridge said.
These classes without air conditioning rely heavily on fans, but they can create their own problem. "We had several fans in my classroom and actually, that makes it hard to hear," recalled Paula Logan, Midvale Middle School principal and former teacher.
Teachers also leave their windows open. One English teacher has covered her windows in aluminum foil to keep the sun out. Still, her students struggle to keep cool.
"We just do the best we can. There's really nothing we can do about it," Reynolds said.
The district says it eventually plans to add air conditioning to the schools, but it's a very slow process. Changes for all 15 schools would cost $250 million. "And is it worth that right now when we need $800 million worth of new schools? So it becomes a matter of priorities," explained Melinda Colton, Jordan School District spokeswoman.
It doesn't usually stay this hot for long into the school year. That's one of the reasons why the district says this isn't a higher priority.
Click on link to the right for extra tips to help students stay cool.
×
Related links
Most recent Utah stories