Estimated read time: 2-3 minutes
This archived news story is available only for your personal, non-commercial use. Information in the story may be outdated or superseded by additional information. Reading or replaying the story in its archived form does not constitute a republication of the story.
Sarah Dallof ReportingHomeowners in a Park City neighborhood are having issues with a new neighbor, one they hope will move soon. A black bear has been knocking over garbage cans and raising concerns for about a week now. This one bear is indicative of a much larger problem..
This summer, wildlife officials have received five times the number of bear sightings than in years past. They say it's partially due to dry conditions that have hurt the bears' food supply.
This black bear is no fine food connoisseur, but he is consistent. For the past week the nighttime snacker has showed up in the same Park City neighborhood.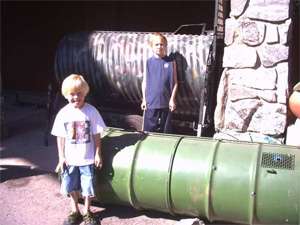 Andy Sheranian said, "I looked out and there was a big bear standing there in our trash. I ran upstairs and banged on my parents' door and said, 'There's a bear outside.'"
Thirteen-year-old Andy Sheranian snapped some of the first photos of the bear. Since then she and her brothers have been banned to playing the deck by their concerned mom.
Dana Denison also saw the bear. She said, "It's not every day you see a bear in your neighborhood. You don't want to hurt him, you don't want to be afraid of him, but you have to worry about your kids."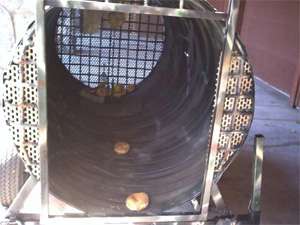 Wildlife officials brought traps. The first was a bit too small.
Denison said, "He stood on the trap and looked at the trap, and then he got angry and picked it up with one paw and threw it."
They're hoping a larger trap will be just right.
Steve Gray, with the Division of Wildlife Resources, said, "It's like finding a needle in a haystack, them getting into the trap when they have all the other food."
The Sheranian family really wants this bear caught so they've added some food of their own, including cantaloupe, half an Alaskan salmon and jelly donuts.
This bear may be a repeat offender. The Department of Wildlife Resources says it may be the same one caught stealing from a barbecue in a nearby neighborhood this past spring.
Gray said, "If we can't catch it and it becomes more and more a problem, we might get a hunter on it."
Sheranian said, "I just hope they don't have to shoot him; I hope he can get into one of these traps."
Bears are looking for more and more food these days as they get ready to hibernate. Just today police in Springville received two reports of a black bear wandering near city limits.
×
Most recent Utah stories