This archived news story is available only for your personal, non-commercial use. Information in the story may be outdated or superseded by additional information. Reading or replaying the story in its archived form does not constitute a republication of the story.
SALT LAKE CITY -- How does one prepare to portray a man who is arguably among the most beloved, reviled and scrutinized in history? Especially when that man's work included the most sweeping accomplishments conceivable — communing with deity, publishing a book read by over 78 million people, founding a church to which thousands flocked in a few short years, colonizing cities, organizing an army, running for president of the United States and dying as a martyr for the principles he professed. And how would you prepare to present that highly-dissected life in a way that's honest, bold and fresh?
Ask R. Dustin Harding, the actor tasked with this incredible challenge as he took on the role of Joseph Smith in Mirror Films' new release, "Joseph Smith, Volume One: Plates of Gold."
Playing Joseph Smith is not a new role for Harding, who will be recognized as the young Joseph in the beautiful film "The Restoration," produced by The Church of Jesus Christ of Latter-day Saints. Harding has also committed to playing Joseph Smith in the remaining two films in Mirror's trilogy, produced by Christian Vuissa. In so doing, Harding has dedicated a large portion of his acting career to bringing the remarkable life of Joseph Smith to the big screen.
I had the pleasure of meeting Harding in Maryland where the film was enjoying an intimate debut. After greeting the small audience, Harding boldly set his stamp on the film as he took a moment to not only express his support of the project, but as he personally testified of Joseph Smith as a prophet of God.
Harding is very candid about the personal and spiritual investment required to play Joseph Smith in these films. A veteran child actor, Harding was 15 when "The Restoration" was being cast. The interview process for the role included ecclesiastical interviews with general authorities of the church, and Harding realized that this role would be a mission of sorts.
A two-year proselytizing mission for the LDS Church followed. Harding served in New Hampshire, noting that when he would show the film "The Restoration" to investigators, they would frequently mention how much he resembled the actor in the film. Harding would respond with a chuckle, "Yeah, I get that a lot."
Just as his ecclesiastical interviews for his part in "The Restoration" added weight to that role, the film added weight to his life and mission. "Other missionaries and members expected a little more from me. I had to learn to live with the pressure and that weight, to live up to those expectations," he said.
When asked if that pressure to "measure up to an expectation" reminded him of Joseph's own life, he responded, "I think so many of us can find similarities in Joseph's life that we can relate with."
---
I experienced so many things that told me that Joseph is really there when I'm filming, guiding me.
–R. Dustin Harding
---
Life imitated art in 2005, the 200th anniversary of the birth of Joseph Smith in Sharon, Vt., which lay within the bounds of Harding's mission. He was called to speak at a special fireside along with his mission president, an event he considers a great privilege.
Four years passed after his mission when Mirror Films approached him about the "Plates of Gold" project. Harding was a married father, enrolled at BYU as a statistics major. He admits he balked when the project was first presented. After filming "The Restoration," he was skeptical about participating in a film about Joseph Smith that wasn't produced by the Church. After reading the carefully researched script, however, he heartily agreed.
"The neat thing about the script is that it captures Joseph as a person," he said. "We hold Joseph on such a high pedestal, sometimes it's hard to capture on film that he really had feelings, to make him a person we can relate to. The script really captured his character."
This experience has affected Harding on a personal level. "When this project was presented, I decided to dive a little deeper into the history of this time as well. It was an amazing experience," he said.
Harding acknowledges spiritual experiences that occurred as he prepared for the role, and on the set. "I experienced so many things that told me that Joseph is really there when I'm filming, guiding me. I get these feelings of how he would have felt in these moments. Someone asked me, 'So, in this emotional scene, were you thinking of what it would feel like to lose one of your own children?' I told them, 'No, I think of how Joseph must have felt.'"
One aspect of the film that most impressed Harding was the careful depiction of Joseph's development in his ability to translate the gold plates, seeing strong similarities between Joseph's experiences and his own in trying to capture the prophet.
"Joseph . . . wasn't someone in the beginning that you could just show ancient scripture to and he would know what the symbols were and translate them. He had to learn to listen to the Spirit, and the Spirit guided him. It's that same process that I've had to go through," he said. "There's no way I could just learn to portray Joseph Smith. His character was so complex. Emma said you could never really capture his character in a painting because it was always changing. His emotions were very strong in so many areas. I had to listen to the Spirit and let Him guide me."
Because each film will capture small periods in Joseph's life ("Plates of Gold" covers 1825-1830 while the next two films will cover the Kirtland and Nauvoo periods), the historical aspects go deeper than previous films. Some may find the detail on seer stones and the translation process controversial, but Harding applauds the film for tackling these elements head on. He believes the Internet has opened the doors to all this information, and placing these elements within their historical context diffuses the controversy, particularly for youth.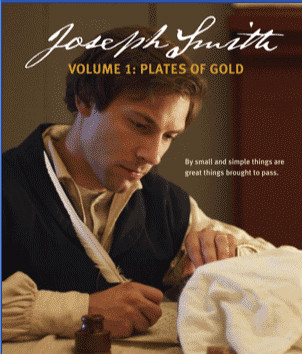 "I feel as members we need to dive a little deeper and get into the history of Joseph Smith so we can understand and secure our testimonies. I love that [they're] in the film," he said.
Harding has a special spot in his heart for the youth of the church, and the connection is mutual. The historically accurate casting of youthful actors in the leads imbues the characters of Emma (played beautifully by debuting actress Lindsay M. Farr) and Joseph with an innocence and vulnerability that touched the Maryland audience.
Speaking of his costar, Harding said, "It was a very neat experience working with Lindsay. Through this experience, she has become one of my family's closest friends. This was Lindsay's first film, but what she lacked in experience she made up for by her faith. She does a very good job at capturing a youthful Emma. I really feel that she was the perfect person for the job."
"Joseph Smith, Volume One: Plates of Gold" is a bold, ambitious project that will educate as it entertains. The film premiers in Utah on Sept. 2. Locations are listed on the film's Web site.
Laurie LC Lewis's award-winning "Free Men" and "Dreamers" historical fiction series concludes this fall with the October release of volume five, "In God is Our Trust," set against the events of the Restoration.
×
Related Links
Related Stories