Estimated read time: 6-7 minutes
This archived news story is available only for your personal, non-commercial use. Information in the story may be outdated or superseded by additional information. Reading or replaying the story in its archived form does not constitute a republication of the story.
ELY, Nevada — Law enforcement officials wrapped up a second day of searching for missing West Valley City mother Susan Cox Powell after surveying remote areas outside of an old mining town. While the search returned no physical evidence, experts say it may have served a broader purpose.
Four West Valley City detectives, along with a couple of representatives from the U.S. Bureau of Land Management and the White Pine County Sheriff's Office in Nevada, spent less than an hour Saturday wandering what's left of the Ward mine and an old, abandoned warehouse nearby that still contains the remains of years worth of core samples from the mine.
The half-day trip, to the Ward Historic Mining District that is 20 miles south of Ely, was the culmination of a sporadic two-day search of the dusty Nevada foothills, to "follow up on investigative leads" on the case of the missing Utah mother, said West Valley City Sgt. Mike Powell, who pocketed a single, tiny ruby he plucked from outside one of the mines.
---
This is the first time we've been here to follow up on information that led us out here. This is definitely not a cold case.
–Sgt. Mike Powell
---
"Obviously we were able to successfully accomplish our goals," Sgt. Powell said. "We arrived here to follow up on some information from the investigation that we needed to conduct some searches in several areas, and we've accomplished that goal."
Investigators took photographs and wrote down coordinates of the various areas they searched, but recovered nothing from any location they visited throughout the weekend.
"Anything that gets (the case) back into people's minds and get it out there again," Sgt. Powell said.
The group searched rugged terrain five miles north of Ely most of the day Friday, checking whether various abandoned mine shafts had been disrupted, also recording their geographical locations.
"There is about 12 million acres of open public land in my district alone, which spans only two counties in Nevada," said Chris Hanefeld, public affairs specialist for the BLM's Ely district. He said visitors come during every part of the year, including harsh Nevada winters.
Hanefeld said that the area that officials surveyed on Saturday is quite popular for all-terrain vehicle use. The wide, gravel roadway that led directly to the base of the old mine accommodated not only law enforcement vehicles during the search, but also a variety of cars and trucks belonging to members of the media accompanying officers on the search.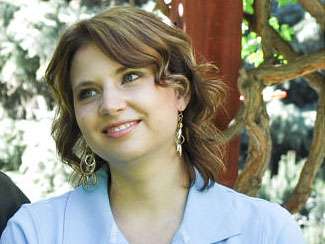 Sgt. Powell, who is of no relation to the missing woman, said the information gathered throughout the informal two-day search will be further analyzed after the officers return to West Valley City and have time to process what they saw.
Police towed two ATVs with them to Ely, along with an RV-type vehicle, where Sgt. Powell said he could "get some work done." He also joked about being able to "get HBO" on two big-screen TVs inside the vehicle, via the attached satellite dish.
As far as the search for Susan Cox Powell, who hasn't been seen since Dec. 6, 2009, Sgt. Powell said it is still "a very active investigation."
"Are there any new leads that were generated from this? At this point, I don't have an answer for that," he said. Sgt. Powell remained tight-lipped about results from a possible search warrant that led them four hours southwest of Salt Lake City, saying that a court order of secrecy had been placed on all warrants obtained during the Susan Cox Powell investigation.
At one point on Friday, however, he said the warrant was served during "the initial part of the investigation" and said the information received was "fairly recent."
Sgt. Powell indicated detectives were looking for something specific in Nevada, but would not say what that was.
"This is the first time we've been here to follow up on information that led us out here," the sergeant said Friday, yet also said officers had earlier taken a "pre- emptive drive" to Ely.
Other than about a dozen mine shafts and a couple of dilapidated structures, the investigators left well enough alone in Nevada.
---
I'm optimistic that at the end of the day when this mystery is solved, we'll look back on this weekend and understand where it fit into the scheme of things and how important it really was.
–Mike Winder
---
"I actually thought they were going to be looking in hotels, apartments, you know, things like that," Susan Cox Powell's husband, Josh Powell said. "That's what I was hoping they'd be looking for — for people — frankly, for Susan."
He said Friday that he found the police announcement of a search to be almost a non-event.
"It just didn't seem like they said anything," said Josh Powell, who has been named as a person of interest and not a suspect in the case of his missing wife. "Honestly, that's what went through my mind."
Similar thoughts were had by several of Susan Cox Powell's family members and friends, who said the seemingly impromptu search left them even more confused about the case. However, retired FBI special agent Lou Bertram said the search might be part of a larger strategy on the part of West Valley police.
"Maybe by announcing it, they thought Josh was going to get in the car and drive to Ely and check a mine to make sure she's still there or something," he said. "I don't know. I have no idea."
Bertram said there is a tactic called "being proactive" that is meant to let potential suspects know police are on their trail.
"It means that you come up with some suggestions and ideas, some may not be entirely ethical, maybe in a gray area, but the point being that you want to set up a scenario," he explained. He said the FBI used a similar plan of action while investigating the Unabomber case.
In that case, Bertram said the initial search "bombed," but added that law enforcement did "get the ball rolling" with the tactic.
"I think (West Valley City police) had some ideas and wanted to see what developed and what an individual might do," Bertram said. That said, he thinks more manpower should have been committed to the search effort.
"I wish they had 300 people down there," Bertram said. "That's the way to do it."
West Valley City Mayor Mike Winder said that out of respect for the investigation, he has not pried for details on the Ely search, but has full confidence in the police department, "whether it's in two days, two months or two years, this mystery will be solved."
He acknowledged that Friday's press conference in Ely was unusual but added that in his opinion its good to have the media along for the search to help the public know what is going on.
"I'm optimistic that at the end of the day when this mystery is solved we'll look back on this weekend and understand where it fit into the scheme of things and how important it really was," Winder said.
----
Written by Wendy Leonard and John Daley with contributions from Sarah Dallof and Paul Nelson.
×
Related stories
Most recent Utah stories