This archived news story is available only for your personal, non-commercial use. Information in the story may be outdated or superseded by additional information. Reading or replaying the story in its archived form does not constitute a republication of the story.
COALVILLE — A bizarre incident involving boaters on Echo Reservoir who appeared to be closely looking at the dam, is raising red flags for federal officials.
"Just the very nature of the way they went about their business, it just did not seem right," said Bureau of Reclamation spokesman Barry Wirth.
On Aug. 7, a group of about a dozen people took two boats onto Echo Reservoir about 1:30 a.m. They paid at the fee station to launch their vessels and then took them out on the water, Wirth said. He was not sure Tuesday what kind of boats they were using.
Although it isn't completely unusual for late night fishermen to be on the reservoir, in this case, "There was no indication they were serious fishermen," Wirth said. "This was different than night fishing."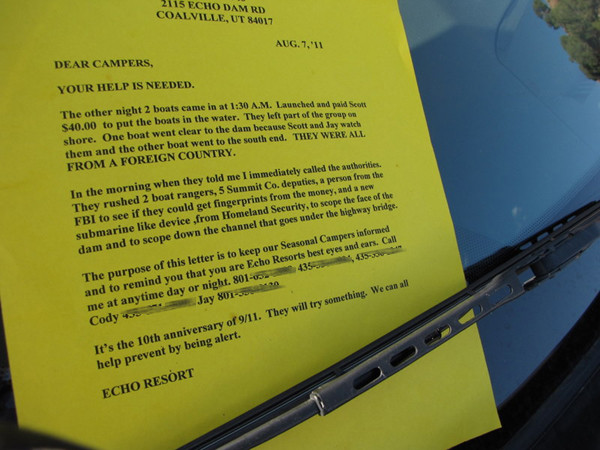 The boats went out to the dam, which is maintained by the bureau, and moved along the dam close enough to shine lights on it, he said. Another boat later went across the lake and looked elsewhere, he said. It was unknown what the group was looking for or exactly what they were looking at.
By about 5 a.m. to 5:30 a.m., the boaters came off the reservoir, loaded their boats and drove off before dawn.
"It just seemed odd. It stood out," Wirth said. "It just didn't make sense."
Several people, including the gate attendant who took the entrance fee from the boaters, and others recreating in the area, noted the unusual behavior.
"It didn't add up," Wirth said. "People who use our facilities really know what is normal and what is not normal."
---
Anytime we get something out of the ordinary, we take them seriously and look into them.
–Barry Wirth, Bureau of Reclamation
---
Some of those witnesses contacted authorities who began an investigation. The BOR is tied into local, state and federal law enforcement agencies, which will help investigate the incident, Wirth said.
"Anytime we get something out of the ordinary, we take them seriously and look into them," he said.
Wirth did not have information on descriptions of the boaters. He could not say Tuesday if there was any surveillance video to view. He also wasn't sure if there would be any noticeable changes in security at the dam because of the incident, but noted, "We've got a pretty high level of security (at all our dams) and have since 9/11."
Wirth praised the witnesses who reported the information, saying the people who live, recreate and work in that area on a regular basis are the ones who would be able to recognize unusual activity.
Echo Reservoir printed up fliers for campers telling of the event and asking people to be on the lookout. Wirth said the dam was inspected after the incident and everything was determined to be safe.
----
Written by Pat Reavy with contributions from Marc Giauque.
---
×