This archived news story is available only for your personal, non-commercial use. Information in the story may be outdated or superseded by additional information. Reading or replaying the story in its archived form does not constitute a republication of the story.
SALT LAKE CITY — Following a stage collapse at the Indiana State Fair that killed five and injured 40, event planners around the country are asking themselves, "Could it happen here?"
Casey Jarman, program director for the Salt Lake City Arts Council, said that at least for Utah, "It can, of course."
Jarman organizes a number of events for Salt Lake City, including the popular Twilight Concert Series that welcomes thousands of spectators to Pioneer Park each week. With all the planning that goes into an event, Jarman said safety is key.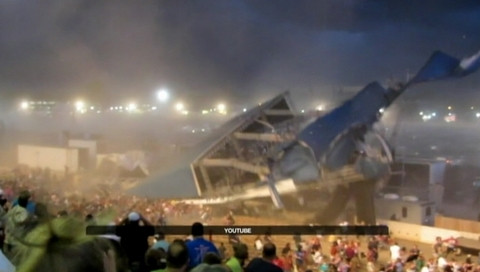 "You worry about a lot of things in this business, but you really worry about the safety of the audience," he said.
A wind gust estimated at 60 to 70 mph toppled the roof and the metal scaffolding holding lights and other equipment at the Indiana State Fair Saturday. The stage collapsed onto a crowd of concert-goers awaiting a show by the country group Sugarland.
Summer weather is unpredictable, Jarman said, and Utah is prone to microburst winds, lightning storms and other natural phenomena. He remembers August 1999, when a concert had to be evacuated due to a tornado ripping through downtown.
"It came directly through our concert series at the time our concert was going on," Jarman said.
Following the tragedy in Indiana, Jarman said he's met with his stage crew to double check equipment and go over safety and evacuation plans.
The Pioneer Park stage, he said, is rated to withstand 70 mph winds. When winds reach 25 mph, event crews go on alert. At 40 mph, everything is shut down — no exceptions.
"Everybody feels that their situation is going to be a little different, but I really feel like our crews are well prepared," Jarman said.
Megan Hatch, who coordinates the Davis County Fair, said it was scary to learn about what happened in Indiana, especially since her fair often sees windy conditions.
"As a fair person, it affects me because I think about how I would feel if something like that happened at my fair," Hatch said.
As precautions, tents at the fair are double staked, and water barrels are used to weigh things down, she said. The size of the event also plays a part, Hatch said. Davis County Fair's smaller tents are less likely to be caught and thrown by the wind.
"Our quantity isn't anywhere near what they were doing," she said. "I feel like we have a really good setup, and we try and be extra safe and take extra precaution."
Still, with all the planning and preparation, there's no way to be sure what Mother Nature will do.
"There's always a chance, and that's what is scary," Hatch said.
----
Story written by Ben Wood with contributions from Sandra Yi.
×
Related Stories