This archived news story is available only for your personal, non-commercial use. Information in the story may be outdated or superseded by additional information. Reading or replaying the story in its archived form does not constitute a republication of the story.
DRAPER -- Fire investigators are still working to pinpoint the exact cause of a fast-moving fire on the Draper hillside over the weekend that threatened homes.
Unified Fire Capt. Cliff Burningham told KSL investigators he believes the blaze was human-caused because it started near a neighborhood and burned up the mountain. There were no thunderstorms with lightning at the time.
Crews were seen combing the hill Monday afternoon for further clues in the fire that blackened 60 acres. The fire has long since been 100 percent contained, but crews were checking for hot spots and were waiting until Tuesday to officially call the blaze "out."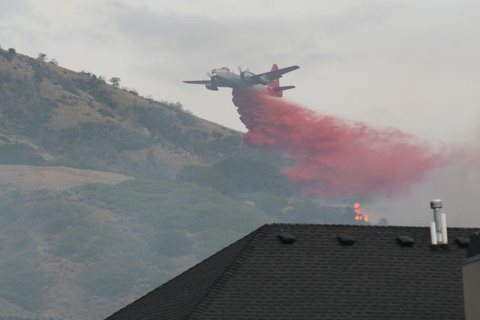 Neighbors Monday were still stunned the fire came so close to their homes.
"Luckily there wasn't a big wind, you know. Otherwise, you never know what's going to happen," Draper resident Maggie Wu said.
Wu evacuated her sons to a shelter when the flames crept close to her home. She now credits firefighters hard and fast work for her house and others' homes being saved.
"I was pretty amazed," Wu said. "I have a lot of confidence in them."
Firefighters were not just working hard, they were working smart, too.
As they quickly rushed resources from other valley fire agencies to combat the blaze, they used a strategy they call "move-ups" or "back-filling" to cover other emergency needs around the county.
Basically, as fire crews from neighboring cities are rushed to the fire lines, emergency dispatch moves further-out firefighters up only a city or two to fill coverage gaps.
In this case, firefighters from Davis County and Park City were called in to fill roles around the valley. Sandy Fire sent personnel from three of its five fire stations to help with the Draper fire. In return, it filled one station with a West Valley crew and another with trained volunteers.
"We'll still be able to protect our citizens and protect Sandy City and take care of business while that large fire's going on," Sandy Fire Chief Don Rosenkrantz said.
Burningham says it's an efficient approach and helps balance out the costs.
"Bottom line is we get to provide a better service to the citizens," Burningham said.
Email: aadams@ksl.com
×
Photos
Related Stories