Estimated read time: 5-6 minutes
This archived news story is available only for your personal, non-commercial use. Information in the story may be outdated or superseded by additional information. Reading or replaying the story in its archived form does not constitute a republication of the story.
SALT LAKE CITY — When 76-year-old Carl Lavern Crites stood before U.S. District Judge Dee Benson Thursday, he stood as a man stripped of nearly everything.
"Mr. Crites himself has lost his collection," defense attorney Wally Bugden said. "He lost his marriage. It's not too much to say he's lost his health."
Crites, a prolific artifacts collector of Native American artifacts, was sentenced to three years probation, with credit for the two years he's spent awaiting trial in his native Colorado. The last year he will serve unsupervised, but he is not to enter government property for any reason other than travel.
---
Mr. Crites himself has lost his collection. He lost his marriage. It's not too much to say he's lost his health.
–defense attorney Wally Bugden
---
"You seem to be a hardworking, patriotic American in many ways," Benson said. "This case has obviously had a catastrophic effect on your life."
Crites previously pleaded guilty to theft of government property, trafficking in stolen artifacts and depredation of government property. Additional charges of one count each of stealing an archeological artifact and transporting an archeological artifact were dismissed.
He admitted to buying a pair of basket-maker sandals from an undercover federal informant. He also admitted to accompanying others, including a confidential government informant, to public land in San Juan County, where they used a shovel to unearth human remains, pottery shards and a knife without a federal permit in September 2008.
"He certainly understands now — he has a better understanding of how hurtful this is to the Native American people," Bugden said. "He understands he was basically trespassing on sacred ground."
Crites and his wife, Marie, 70, were indicted with 23 others in the 2009 government crackdown on those who deal in Native American artifacts.
As part of his plea agreement, Vern Crites forfeited a collection of artifacts believed to contain as many as 5,000 pieces, worth around $500,000, Bugden said. Now, he is "essentially homeless" and dependent on social security.
"I think Mr. Crites feels the full brunt of the law," Bugden said.
Bugden told Benson that the bulk of Vern Crites' artifacts were found on private property owned by ranchers and farmers that Vern Crites met as a propane supplier. Many were excavated with the property owner's permission.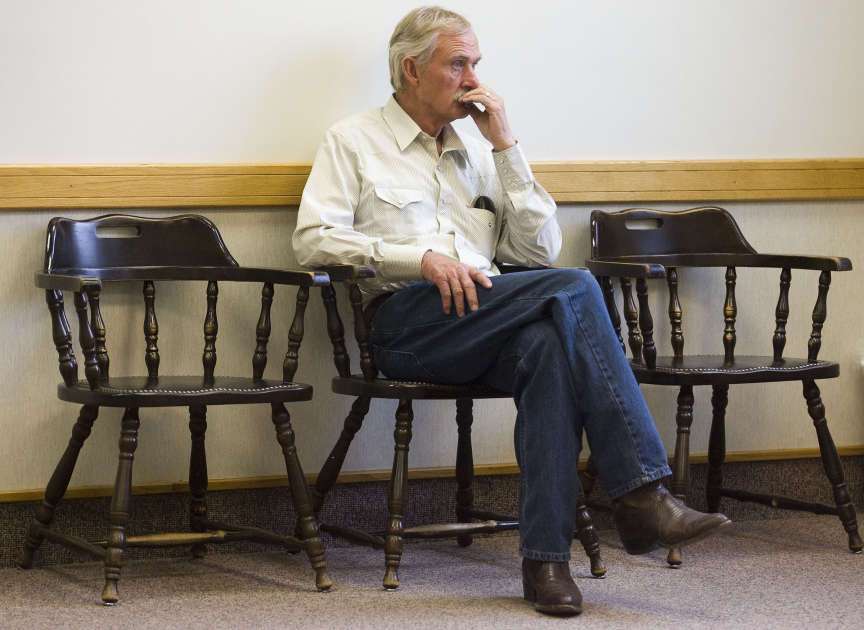 Prosecutor Richard McKelvie said the government disputes that claim, but that some of the items are being reviewed.
"Surely the United States hasn't made a bad case worse by stealing from a defendant," Benson said. "That would be awful."
McKelvie said the forfeiture of his collection was part of the plea agreement, and that the government allowed the couple to keep their home and vehicles.
Crites apologized to the judge if he seemed stressed or nervous, explaining that he'd been pulling a UHaul trailer since 5 a.m., en route to Portland, where his wife now plans to live.
"I know I made a mistake and that's why I pleaded guilty for it," he said. "I'm sorry for it … I now know how wrong it was and how offensive it was to Native American people."
Marie Crites pleaded guilty to a single count of trafficking in stolen artifacts.
Her defense attorney, Richard Mauro, said her involvement was minimal. An artist whose paintings once hung in the offices of U.S. Sen. Barry Goldwater, the woman talked with her husband about the sandals and knew about the sale that was eventually made.
"She's not a digger," Mauro said. "She doesn't go on federal land. She's not a major trader. She's 70 years old. She's spent the majority of her life in successful endeavors."
---
I know I made a mistake and that's why I pleaded guilty for it. I'm sorry for it - I now know how wrong it was and how offensive it was to Native American people.
–Vern Crites
---
Marie Crites patted her soon-to-be former husband on the arm as she walked to the podium for her own sentencing. Mauro said he's seen people stand before a judge, unfazed, but that was not this client. In two years, he's seen the toll this case has taken.
With her deep, sorrowful alto voice halting, she spoke to the judge. Marie Crites spoke of the respect she has for the Native American people and the love she has of their culture.
"I am very profoundly sorry for my association with this situation," she said, noting that she's spent decades of her life restoring artifacts. "I'm sorry for the pain this caused."
She was sentenced to 30 days of unsupervised probation.
Benson expressed sincere regret at what has happened to the couple since the charges were filed. He said they "seem like nice people" and commended them for accepting their guilt.
"I hope you don't make more of this than needs to be made of it," he said. "You know what kind of people you are. I hope you don't take it too hard."
Three people have taken their lives in the time since the federal operation ended: Blanding doctor James Redd, Steven Shrader of New Mexico and the government informant, Ted Gardiner.
Bugden said after the hearing that the government was trying to send a message and he understands that. He even agrees with the principle of that message, but in Crites' case, they were simply "too harsh."
McKelvie didn't oppose the probation recommendations from defense attorneys, citing the Crites' age and health.
If not for the plea agreement, Bugden said Vern Crites may have gone to trial in an effort to keep his property and prove his ownership. But the government only offered the plea agreement to the Crites as a couple, putting Vern Crites in the position of having to protect his wife by avoiding trial, according to Bugden.
"Mr. Crites wouldn't have denied he was guilty," Bugden clarified. "He never challenged what he did. We never claimed Gardiner entrapped him. Mr. Crites made a bad decision, but it's had an enormous toll."
"People don't understand how enormously stressful it is if you're a decent, patriotic person having to face felonies, fines, imprisonment," he said. "It meant financial ruin for these people. It destroyed their lives."
Email:emorgan@ksl.com
×
Related stories
Most recent Utah stories