Estimated read time: 3-4 minutes
This archived news story is available only for your personal, non-commercial use. Information in the story may be outdated or superseded by additional information. Reading or replaying the story in its archived form does not constitute a republication of the story.
SALT LAKE CITY — Jodee Stott took her place in front of the mic and fidgeted.
"I hope I don't get docked points for wearing blue," the hospital ambulance center worker laughed nervously, realizing she was auditioning for a very red-hot talent competition for University of Utah faculty and employees. Still, Stott managed to relax and belt out a soulful rendition of the song "On My Own" from Fame.
It's been about four years since the U. has done a talent show, but when organizers called for auditions for "U Got Talent" earlier this month, they weren't prepared for the response, or variety.
Over three days of auditions this week there were singers, guitar players and even a stand-up comedian. But some acts you had to see to believe.
Rodrigo Sagredo Jr., who works in Nutritional Care Services, did a high-energy, hip hop dance routine. In a flash, Sagredo ripped open his shirt revealing a muscular pack of abs, raising the eyebrows of the judges.
What really turned heads was when two nurses, dressed in their crisp white scrubs and sporting paper nurse hats, marched into the audition theater armed with trumpets.
"We're the Nurse Trumpeteers," Samantha Goodman announced. She and her friend, Karen MacArt, work in the maternity unit at University Hospital.
"When we heard about the talent show we said, 'What the heck, you don't see nurses playing trumpets very often,'" Goodman said.
The two women played an arrangement of patriotic songs, including "Yankee Doodle" and "This Land is Your Land," ending with the U.'s fight song "Utah Man." Having made only a few mistakes, the women were pretty pleased with their performance.
"I did kind of sound like a sick animal," MacArt said laughing. She plays the organ and piano, but it's been years since she has played the trumpet.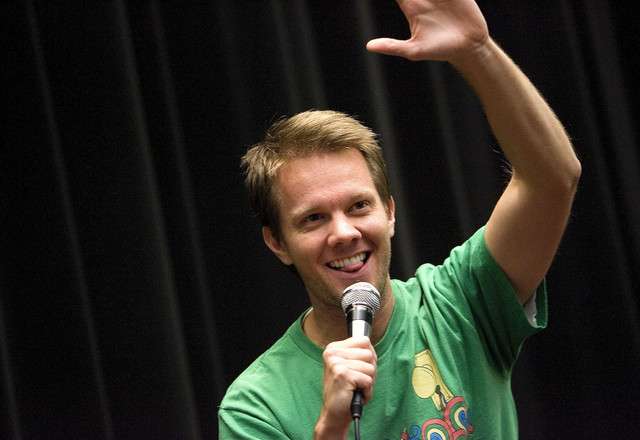 "I've been amazed. It's fun to see all of the talent," said judge Chris Bone, director of employee relations.
Fellow panelist Allison Frost agreed. "I think it's fun. I'm kind of surprised how many people have come to audition," Frost, who works for the dean of student affairs, said.
At a time when the economy and unemployment has been a dark cloud hanging over the heads of many, Frost and Bone said holding a talent show for employees comes at the right time. "Given the economic and labor market right now, anything we can do to have the opportunity to celebrate the comradery of our institution is great," Bone said.
"I think it's good to see a different side to co-workers. This is where everybody can let their hair down and show a different side to them," Frost added.
Kinjal Parikh and Nimisha Soni are both pharmacology residents and both from India. Because of the long hours they work, both thought it would be fun to do a Bollywood-style dance routine. Both women undulated their arms with hips swinging to the beat of the Indian music.
"It's nice to do something fun together," Parikh said. "It's a stress reliever as well," Soni added. Both said they don't care about winning, but liked the excuse to dance.
Janzell Tutor, entertainment committee chairwoman for the U.'s Employee Appreciation Day, said they had a total of 29 acts during auditions. The judge panel will have to whittle the list down to about 15 finalists, who will compete in the final "U Got Talent" competition during Employee Appreciation Day on Sept. 29.
Tutor said they are pulling together a panel of local celebrity judges. Already they have a commitment from Michelle Money, a Utah contestant on ABC's The Bachelor, but are still looking for other celebrities.
Performers will compete for first, second and third place honors, but there will also be a people's choice award. Tutor said her office is working with a company that will allow the audience to use their cell phones to text in votes for their favorite performers.
Email:gfattah@desnews.com
×
Photos
Related stories
Most recent Utah stories