This archived news story is available only for your personal, non-commercial use. Information in the story may be outdated or superseded by additional information. Reading or replaying the story in its archived form does not constitute a republication of the story.
Carole Mikita Reporting In the 21st century, infant mortality remains remarkably high in third world countries. But now, some doctors and nurses are receiving training materials from Salt Lake City.
The most common problem the health care professionals face is resuscitation-- helping newborns breathe. The kits come from The Church of Jesus Christ of Latter-day Saints. Those kits are accompanied by American health professionals who know what to do first.
The sound of a healthy newborn - always a miracle. But in third world nations like Equador, children's chances of dying are ten times more likely than in the United States.
Many babies do not survive because of birth asphyxia, not being able to take a first breath. Even doctors and nurses will simply bring an infant into the world and wait for him or her to breathe, without knowing how to help, if the child is struggling.
Dr. Fortunato Perez-Benavides, Texas Tech: "They cannot spare even good minds, to send them to train and come back to their own places. So, in this situation, we bring the training to them."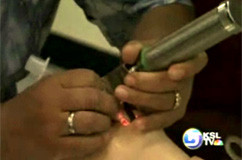 That training, in the form of a doll and rubber bulb, or mannequin and intibation tube, comes from Salt Lake City. The LDS Church created the program and ships the equipment.
Monica Guilcaso/Trainee: "This course was excellent! I give thanks to God because this is an opportunity where God values and uses people like you as instruments to help us. And how important this is because with life, we never know when we might be putting this in practice. This has been great!"
Volunteer doctors and nurses work as trainers. Dr. Jeffrey Zollinger from Rexburg, Idaho, travels to South America every four to six weeks just to teach.
Dr. Jeffrey Zollinger, OB-GYN volunteer: "With simple measures, a bag and a mask in every delivery room, and simply instructions on how to resuscitate a baby, you can save a lot of lives."
Inside Guayaquil's largest maternity hospital, expectant mothers lie side-by-side, waiting for delivery. They have no privacy here, but they do have confidence that the medical staff will deliver their babies and help those infants breathe.
Dr. Enrique Valenzuela Baquerizo, Hospital Director: "This course is meant for those that have a voice, speak, and repeat that voice in their own towns and communities, so that those who are going to come into this world have a voice."
Mother and child, a peaceful moment, because of a link from one continent to another. Training materials are sent, tested and used with one goal -- to give the world's newest arrivals that all-important breath of life.
In fact, the goal - a directive, volunteer doctors say, comes from church leaders: take this training to as many countries in the world where it is needed.
×