Estimated read time: 2-3 minutes
This archived news story is available only for your personal, non-commercial use. Information in the story may be outdated or superseded by additional information. Reading or replaying the story in its archived form does not constitute a republication of the story.
John Daley Reporting The implosion of the old Key Bank Building will not be the first in Salt Lake for the contractor Controlled Demolition International.
What goes up must come down. That's the story for the Key Bank building that is now in its final moments.
Doug Loizeaux understands that situation better than most. He works for Controlled Demolition International. He says, "So we can utilize the weight and the construction of the building to pull itself down. What we're doing is relying on God-given gravity."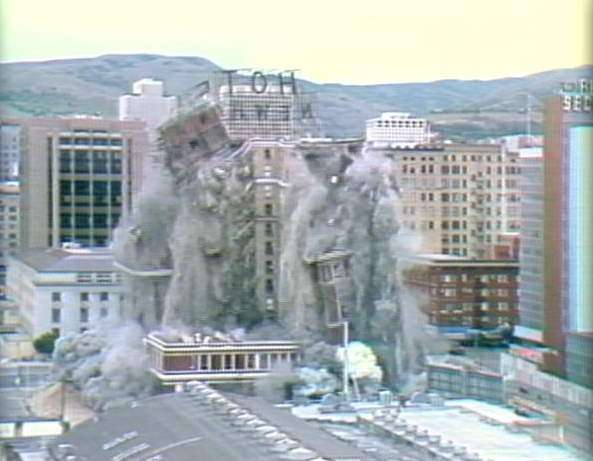 We went through the KSL archives and found the demolition of the old Newhouse Hotel. We found a comment from Doug's father, Jack, which was made back in 1983. Jack Loizeaux said, "I've realized there was an awesome power in explosives. So we used the good Lord's gravity, which is unlimited power, plus explosives and here's what we get." He oversaw Baltimore-based Controlled Demolition Inc, the company responsible for brining the Newhouse down.
In fact, Doug played a key role in that explosive event too. Back then, Doug said, "It came down better than anticipated actually because it was very light construction for a building of its size, and we didn't think we'd have as much control as we did."
More than 20 years later, Doug says things in the demolition business haven't changed that much. "What it's going to do is cut through the steel columns like a knife through butter," said Doug Loizeaux.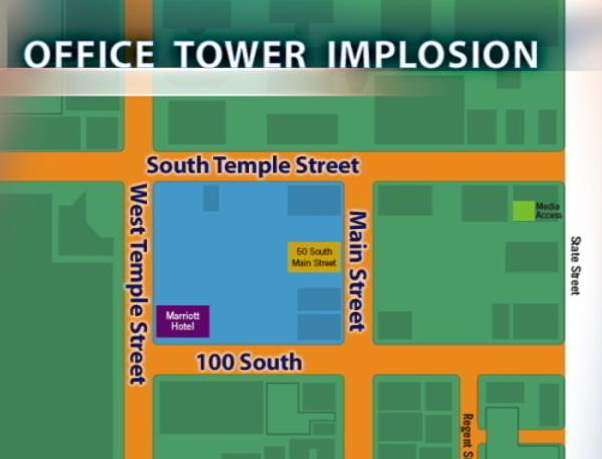 The equation is still: well-placed explosives plus gravity equals ka-boom. "The trouble is I thought at one time, I'd never take down a building younger than I was and now they all are. This is much younger than I am," said Doug.
Which goes to show, when a community landmark comes down, it's more than an eye-popping show stopper, it's also a time-keeper marking moments in our lives.
CDI's Web site claims world records for demolition in several categories. Seattle's Kingdome is the largest structure demolished by explosives. The tallest building brought down that way was the J.L. Hudson Department Store in Detroit, and the tallest man-made structure imploded was a 1,200-foot radio tower in Argentina.
Eyewitness News will carry the implosion live. Coverage will begin at 6:30 tomorrow morning, and we'll be on the air until the dust settles at 7:00. You can also watch it on ksl.com. We'll provide various camera angles from the ground and the sky, truly making your living room the best seat in the house!
×
Related links
Most recent Utah stories