This archived news story is available only for your personal, non-commercial use. Information in the story may be outdated or superseded by additional information. Reading or replaying the story in its archived form does not constitute a republication of the story.
John Hollenhorst ReportingA study of supermarket seafood in Washington State has found mercury contamination in two species high enough to raise health concerns. Health officials there suggest children and women of child-bearing age limit their consumption of halibut and Pacific red snapper. Here in Utah, new equipment is speeding up the testing of home-grown fish.
We know some Utah waterways are contaminated with mercury. But which ones? And how bad? Until lately, the slow pace of testing has been a frustration. Now we're starting to get answers that appear significant.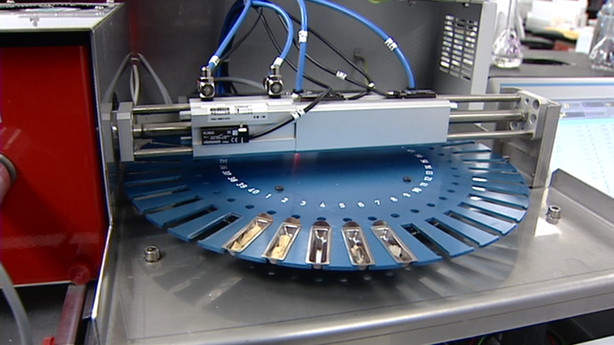 Larry Scanlan, Chemist, Utah Dept of Health: "We're analyzing samples from 2004 and 2005 that have been frozen."
A Cutthroat Trout caught in Northern Utah has been waiting its turn. Lab techs slice out a chunk of muscle; it gets mashed and divvied up. A small tidbit of edible fish is fed into a brand-new Mercury Content Analyzer. It provides answers by overcooking the not-so-fresh fish.
Larry Scanlan: "By heating it up and measuring how much mercury comes off the fish after we ash the sample."
Until recently, officials had to send Utah fish to out-of-state labs.
John Whitehead, Utah Div. of Water Quality: "That's turned out to be very slow because they have a backlog. So we really have been limping along for a year or two. And we are actually delighted to have a system we can run the fish on."
The machine has tested 200 fish so far. The mercury content ranges from insignificant to worrisome.
Larry Scanlan: "That one was quite high. That was an 800."
Three-hundred is high enough to trigger health advisories for specific bodies of water. So far, the state has issued three, for Gunlock Reservoir in Southwest Utah, Millcreek in the Southeast and the Green River in Desolation Canyon. Anglers in those locations should limit fish-eating to one or two meals a month.
So far 10 percent of Utah's fish have tested above 300, but officials say it's too soon to see a clear geographic pattern or to reach firm conclusions.
John Whitehead: "We're seeing a few areas where we need to go back and resample and say, 'Do we have these high numbers for sure?' But we really can't tel. It's a little early yet."
The mercury is believed to come through the air from coal-fired power plants and possibly from gold-mining in Nevada. So far, Utah's problem looks about average compared to other states, but the data is just starting to pour in.
×