Estimated read time: 3-4 minutes
This archived news story is available only for your personal, non-commercial use. Information in the story may be outdated or superseded by additional information. Reading or replaying the story in its archived form does not constitute a republication of the story.
Sam Penrod ReportingCrews continue working on a third drill hole to try to reach six miners trapped inside the Crandall Canyon mine. If the men are still alive, this hole could be their lifeline until the horizontal tunnel can reach them.
At the last update, yesterday, Robert Murray, president of Murray Energy Corporation, said they're down more than 800 feet on the third hole. If progress continues at that pace, the hole could reach its target sometime tonight.
There is still no word from the six miners believed to be trapped inside a Central Utah coal mine. But efforts to make contact through drilling and underground in the mine keep making progress.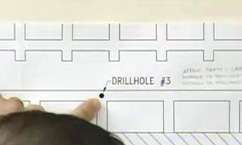 We are now to day 10, and that makes it hard to think about how the six miners are holding up inside the mine, if they have survived all they have been through.

But mine officials insist they are doing everything they can to get to them as fast as they can. Richard Stickler, Mine Safety and Health Administration, said, "The number three hole we continue to drill on, we're making good progress on that...We're also continuing to do the preparation work on a fourth hole."

That fourth hole will be drilled in yet a different area of the mine, if no contact is made with this third one. However, if a fourth hole is begun, there's a good chance the horizontal tunnel would be completed before that drill hole.

The new drill should punch through about 1,200 feet away from where the first two holes were drilled. This is now where mine officials are holding out hope that the six miners retreated there after the collapse.

Underground, mine officials say they are making progress, but from the video released today by the mining company, you can get a sense of why it is so painstakingly slow. Murray said, "You are here right now, right at the furthest point that we have driven towards the trapped miners, a distance of about 700 feet from where we started and about 1,200 feet from where we think they are located."

Click Play above to view video from inside the mine

Crews are creating that safe passageway through the mine as they install roof supports and then fencing to keep the sides from falling in, so it is much more than just excavating out the coal. They are building a wall on each side to make it safer for the miners involved in the rescue. We are hearing it will likely be another five to seven days, depending on how deep the collapse actually goes, before they have that passageway underground and can finally reach the miners.

And while the work continues underground, the families are making sure the six miners are not forgotten. At the school where the families wait for any news, the names of the six miners are written on the track. The message says simply, "Praying for you, our six."

A benefit concert to raise money for the families of the missing miners will be held tonight at Huntington Park. The concert is free, though donation jars and vendors booths will be set up around the venue. All proceeds will to the families.

×
Photos
Related links
Most recent Utah stories