Estimated read time: 3-4 minutes
This archived news story is available only for your personal, non-commercial use. Information in the story may be outdated or superseded by additional information. Reading or replaying the story in its archived form does not constitute a republication of the story.
PROVO -- Sometimes, it's OK to dwell on the past.
That was the thought shared by visitors and organizers of America's Freedom Festival at Provo, held July 1, 2 and 4 of this year.
To help visitors remember that Independence Day is about more than hot dogs and fireworks, organizers of the 2011 festival planned events around the themes of "family, freedom, God and country." Events included historically themed attractions such as Colonial Days as well as the more modern Stadium of Fire.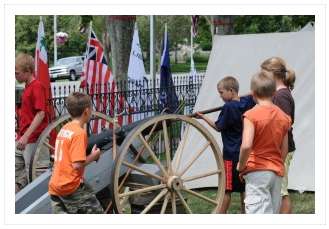 Visitors to Colonial Days had the opportunity to print a personal copy of the Declaration of Independence, spend time in living history encampments, and witness an eighteenth-century talent showcase.
At Brent Ashworth's Hall of History, visitors viewed documents and artifacts from America's past, including a 1787 United States Constitution and an 1860 publication of the Lincoln-Douglas debates.
Organizers and volunteers hoped visitors would feel the past come to life as they toured the independence-era village.
"We tried to put the spotlight on the men and women who made America great and on what we can do today to keep America great," said Kayra Dobbin, an Orem resident and fourth-year volunteer.
Freedom Days
Festival booths and events
Monday, July 4 - 10: a.m. to 8 p.m.
Showcases specialty products, hands-on activities, local entertainment, and unique foods. Includes handcrafted jewelry, live music, kids art, books, paintings, quilts.
Dobbin, whose husband served 22 years in the United States Army, hoped the celebrations would call to mind the sacrifices made by those who serve their country.
"It's not just an income, it's an investment in America and our freedoms," she added. "We should recall to mind each and every year our responsibility to our nation and to our forefathers."
Some chose to fulfill that responsibility through volunteer work.
---
Younger generations are forgetting what it's all about. They have to understand the sacrifices that have been made.
–Diane Scruggs, volunteer
---
Diane Scruggs, a Cedar Hills resident and second-time volunteer coordinator for Freedom Days, directed a cast of about 300 volunteers in order to provide a meaningful experience to thousands of visitors. Volunteers were needed for various children's activities as well as for the information and face painting booths.
Coordination efforts began in March, but Scruggs said the effort had been enjoyable because her entire family participated.
"We really enjoy it," she said. "It's a great way to spend the Fourth of July and to remember those who have gone before us, who have sacrificed their lives and have given so much. Being involved is a way to give back and serve."
Scruggs hoped the Freedom Days experience would be a thought-provoking one for participants.
"It's important that we teach our children history," she said. "Younger generations are forgetting what it's all about. They have to understand the sacrifices that have been made."
Timothy Matthews, a retired veteran, understands sacrifice.
Matthews worked the booth of the Disabled American Veteran's Chapter for Utah County, hoping to receive donations to help those who have sacrificed in the name of freedom.
"Any veterans can come to us for help," said Matthews. "Our motto is, 'Veterans helping veterans.'"
The servicemen working the booth thought the Fourth of July was a good time to spread knowledge of their chapter, which is the largest in Utah.
"Any patriotic event helps draw attention to the needs of veterans, especially the Fourth of July," said Matthews. "These events cause people to renew their sense of patriotism and their love of country and community."
Stephanie Grimes (@limsteph) is a student at Brigham Young University studying history.(Top photo: Tom Smart, Deseret News)
×
Related Links
Related Stories