Estimated read time: 4-5 minutes
This archived news story is available only for your personal, non-commercial use. Information in the story may be outdated or superseded by additional information. Reading or replaying the story in its archived form does not constitute a republication of the story.
UTAH STATE PRISON — Nate Workman was accustomed to success during his childhood and as a young adult.
He received a scholarship to play football at Utah State University where he was expected to be the starting quarterback and hoped to make his mark on a promising football career.
But Workman never played a single down for the Aggies.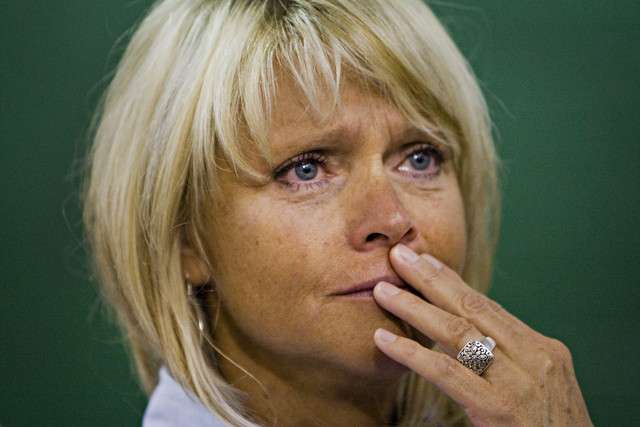 Thursday, 15 years after having the glory of the gridiron taken away because of a drug habit he was unable to break, Workman scored a bigger victory — this time while incarcerated at the Utah State Prison.
Workman was among approximately three dozen male inmates who graduated from the Department of Corrections' Con-Quest substance-abuse treatment program. During a ceremony for the Con-Quest graduates, Workman thanked his mother and grandmother who were in the audience.
"Nothing you taught me brought me here," he said directly addressing his mother. "But everything you taught me is bringing me back."
For 12 to 18 months, inmates involved in the Con-Quest program participate in both group and individual therapy. Their classes touch on rational thinking, criminal lifestyles and wellness. They are also held responsible for even the littlest of actions, such as not wiping down the sink, and are reminded by others in the program when they don't fulfill their responsibilities.
Prison officials describe the program as an "intensely structured environment where they develop pro-social skills and learn from one another in a monitored group setting."
Before being sent to prison, Workman said he was angry, defeated and disgusted with himself.
"Drugs took me away from everything that was important to me," he said.
---
I was so very tired of the pain and heartache. I was overwhelmed with disgust. It was time for change.
–Inmate Nate Workman
---
His football career ended when he started committing burglaries to support his meth habit. For the past decade he has been in and out of state and federal prison, always being sent back after less than a year of being released.
He most recently was sent to the Utah State Prison in 2010. Immediately he wrote a letter requesting to get into the Con-Quest program.
"I was so very tired of the pain and heartache," he said. "I was overwhelmed with disgust. It was time for change."
With Con-Quest, Workman said he now has the tools to know how to face a situation better.
"I have the opportunity to respond correctly," he said. "This program has been a breath of fresh air."
Although he still has a year left in his sentence and knows he will still face challenges to stay clean when he is released, both Workman and his mother were excited for what they believe is a bright future.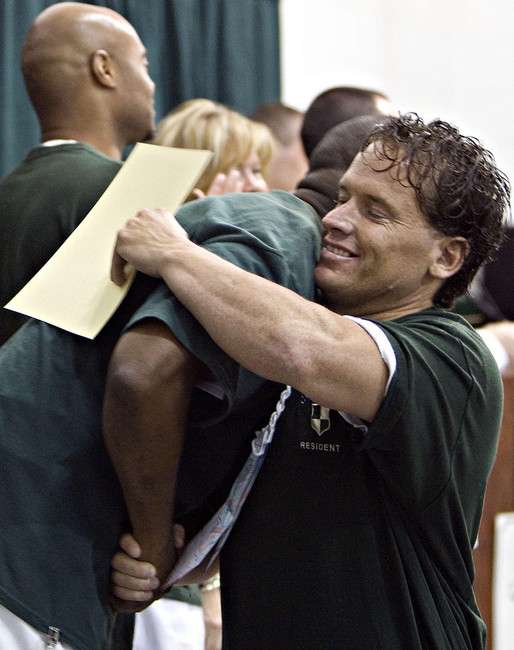 The bulky 44-year-old missed his chance for a football career. But now he is anxious to get out of prison and help his 14-year-old son, already a star player in his youth football and baseball leagues.
"It's come full circle," he said.
Inmates in the Con-Quest program are dedicated to becoming better men, better fathers and better husbands, said inmate and program member Kit Moser.
Jonathan Pegg said it was easy for him to get stuck in a routine of drugs, alcohol and stealing. "I'm no longer stuck in my destructive behavior," he said.
Inmate Ervin Brafford also had high praise for the program.
"It's amazing what I can learn if I would just shut up and listen," he joked.
Brafford thanked family members who attended Thursday's ceremony, noting that "support is a huge part of recovery." And he also thanked the counselors and staff of the program.
"I don't know how you deal with a bunch of grown men who act like they're still struck in their terrible 2s," he said.
Dustin Dimmick has been struggling with drug addiction for 14 years. "Today's a good day," he said at Thursday's ceremony.
Before entering the Con-Quest program, Dimmick hadn't had contact with his parents for a year-and-a-half. Now he has a relationship with them again.
Ron Williams has been in prison six times, giving the Department of Corrections 140 months of his life, as he put it.
"I have hurt family and friends," he said. "Addiction allowed me to keep running and hiding. I am here because of the poor choices I made."
Before getting their diplomas, program director Donna Kendall "called out" the group, challenging them to actually put what they've learned to use when they get out of prison.
"It stops now. It's got to stop. I don't want to see your faces again," she said. "Make this life an exciting place to be sober."
Email:preavy@ksl.com
×
Photos
Related links
Related stories
Most recent Utah stories