Estimated read time: 3-4 minutes
This archived news story is available only for your personal, non-commercial use. Information in the story may be outdated or superseded by additional information. Reading or replaying the story in its archived form does not constitute a republication of the story.
HUNTINGTON — Most of us have probably given it a good effort to cut down on electricity we use. But the average residential customer in Utah uses about 25 percent more power than a decade ago.
Rocky Mountain Power estimates our demand for power will grow another 20 percent in the next decade. That's one reason KSL News is taking a close look this summer at Utah's energy resources and demands.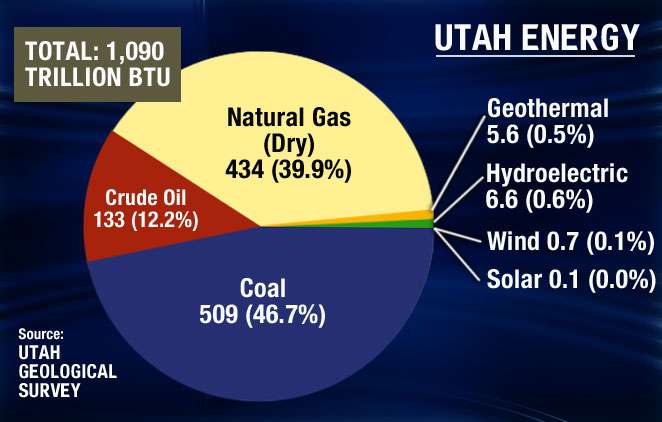 We joined Governor Gary Herbert on a trip to the Huntington Power Plant as part of his mission to better understand Utah's energy present and future. The coal-fired plant generates electricity for 1.7 million customers.
"If we're going to have long-term, sustained economic growth," he said, "we need to have an energy supply that's long-term, sustainable and affordable."
That's what coal and other fossil fuels provide Utah today. Herbert's 10-year energy plan aims to balance those sources with cleaner alternatives. But here's what we use to generate power today:
We burn coal, natural gas and crude oil for most of our fuel.
Hydroelectric and geothermal make up about 12 percent combined.
But wind and solar power combined generate less than 1 percent of our electricity, despite increasing demands for more renewable energy.
"We agree completely that we need to move forward, and we need to move forward quickly on our renewable resources, as well," said Amanda Smith, the governor's energy adviser.
Right now, fossil fuels — which are not renewable — cover our demands.
"The grid has to work 27/7, no matter what the resource is doing," Smith said. "That's one of the advantages of coal, is that it burns consistently and provides what is called the 'base load' of power."
Utah's Current Annual Production Rates and Proven Reserves of Conventional Fossil Fuels
| | Petroleum | Natural Gas | Coal |
| --- | --- | --- | --- |
| Proven Reserves | 286 million of barrels | 6.7 billions of cubic feet | 202 millions of tons |
| Yearly Production Rates | 45 million of barrels | 0.131 billions of cubic feet | 21 millions of tons |
| Remaining Years of Reserve at Current Production Rates | 6 years | 51 years | 10 years |
<a href="http://www.utah.gov/governor/docs/10year-stragegic-energy.pdf"target=_blank>"Energy Initiatives & Imperatives: Utah's 10-year strategic energy plan"</a>
#remaining_reserve
Electricity storage is a problem, although work continues in Utah to come up with new technology for solutions. Herbert expects entrepreneurs and the free market to help crack some of those long-range challenges, but he says all forms of energy are under consideration in his plan.
"Solar, which is still a long way from being commercially viable, certainly on a commercial basis," he said. "So, there's all kinds of energy; many arrows in the quiver of energy, and we need to try them all."
Most of Utah's power comes from plants like the Pacificorp facility at the mouth of Huntington Canyon, which burns coal from its own Deer Creek mine along with coal trucked in from other area mines.
"You can't immediately eliminate coal from the mix," said Mike Dunn, president of Pacificorp Energy. "It's just not possible. The lights would go out."
The Huntington plant grinds 70 tons of coal per hour into powder as fine as talcum powder. That pulverized powder is fired into a massive boiler where it is ignited.
Water from Huntington Creek circulates in tubes around the boiler. That water is heated into high-pressure steam. The steam is then channeled through huge turbines which power generators creating electricity.
The power is manufactured and delivered in the same instant, as soon as the customer asks for it.
More 'Project Utah' stories

KSL News is providing a more in-depth look at the issues and stories that are important in our state in a series we call "Project Utah." Here are some recent reports:
The plant cannot store electricity. So when demand peaks, like it did Tuesday afternoon, the plant ramps up the units immediately.
"In the afternoons, when people come home in the summer, they start turning their air conditioners up," Dunn said. "The loads pick up dramatically, and we have to be able to power on immediately."
Many environmentalists and physicians, however, consider coal-fired power plants among the riskiest sources of air pollution.
Clean Air Task Force studies show emissions from the plants contribute to climate change, ozone smog and fine-particle pollution. The studies also link emissions to premature deaths, heart attacks and asthma attacks.
Pacificorp says it has reduced sulfur dioxide emissions at the Huntington facility which contribute to haze, and also cut mercury emissions to bring it in compliance with future regulations.
"We've added significant emissions control projects over the last several years," Dunn said.
The governor says his energy plan is just the beginning: It will evolve. He expects ingenuity and creativity will lead to new technologies.
"I'm prepared to explore all kinds of alternatives, besides just coal," Herbert said.
Email: jboal@ksl.com
×
Related links
Related stories
Most recent Utah stories