Estimated read time: 3-4 minutes
This archived news story is available only for your personal, non-commercial use. Information in the story may be outdated or superseded by additional information. Reading or replaying the story in its archived form does not constitute a republication of the story.
Tonya Papanikolas ReportingTwo US Representatives put out a statement today criticizing the way information on the trapped miners was getting to the families and media.
Most of the public information has been coming from the president of the corporation that operates the mine, but legally that's not the way it's supposed to happen.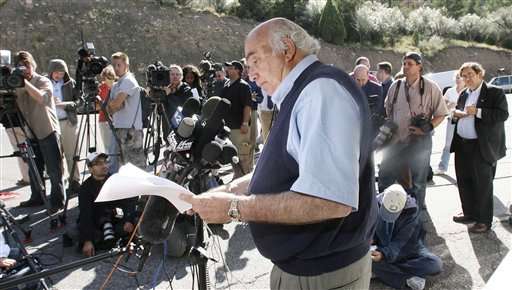 It was mine operators in West Virginia who told families of the Sago Mine victims last year their loved ones were all alive. After that turned out to be false, a new law was passed saying the Mine Safety and Health Administration should be the primary group communicating with the families and media. That hasn't exactly happened and it isn't the only controversy surrounding mine operator Robert Murray.
Robert Murray has spent most of his life in the mining business, working as CEO of the North American Coal Company and then starting Murray Energy Corporation. On his company's Web site, Murray expresses loyalty to his workers, saying, "Coal is my life, not a financial opportunity."
But that is not the image presented in the 2001 issue of the United Mine Workers Journal, which claims Murray backed out on promises he'd made regarding worker pay and hiring practices, resulting in more than 700 mine workers holding a rally to protest his treatment of them.
A New York Sun article portrays Murray as a CEO with a spine for challenging the global warming movement.
During this morning's press conference Murray said, "Every one of these global warming bills that's been introduced in congress to eliminate the coal industry will increase your electric rates four to five-fold." Murray began not by talking about the trapped workers, but by promoting the coal industry. "We produce a product that is essential to the standard of living of every American."
Later he emphasized that his heart and his priorities are with the trapped miners and their families. "We've been keeping the families well-informed and administering to their needs. I will not leave this mine until those men are rescued dead or alive," he said.
Today, two members of Congress called on the Labor Secretary to insure a better release of information.
Critical of this morning's news conference, George Miller and Lynn Woolsey said it didn't meet the proper standards, and that the families and the public must get the best information, faster.
A congressional spokesman told KSL if Murray wants to continue holding press conferences, that's his right. He said the intention of the congressional reprimand was to make sure MSHA was taking as active a role as possible in talking with the families and the media so people weren't mistaking Murray's information for federal views, especially when it came to what caused the mine collapse.
Murray has worked in mines most of his life, and claims to have been trapped himself. He said, "I don't have much hair, but I've been doing this for 50 years: mining coal. I've had men die in my arms."
To hear excerpts from Bob Murray during this morning's press conference, click on the audio links.
×
Most recent Utah stories