Estimated read time: 2-3 minutes
This archived news story is available only for your personal, non-commercial use. Information in the story may be outdated or superseded by additional information. Reading or replaying the story in its archived form does not constitute a republication of the story.
Jed Boal ReportingOne person has died at the Crandall mine in the 12 years the current owner has run the operation.
The mine has averaged about 100 violations a year under the current ownership. While that sounds like a lot, a mine-safety experts calls the operation not perfect, but not bad.
The current operator of the Crandall mine, Genwal Resources, took over the operation in 1995, according to records of the Mine Safety and Health Administration.
Federal inspectors conduct regular and spot inspections, more since 12 miners died in the Sago mine of West Virginia 18 months ago.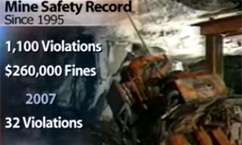 Congress has passed tougher safety laws mandating more inspectors, rescue teams and air packs for miners.
Davitt McAteer, a former Mine Safety and Health administrator, said, "We require now each individual miner to have a self-contained self-rescuer on him, plus an additional self-contained self-rescuer and a cache of self-rescuers, to provide them with a number of hours of breathability, to be able to escape in the result of an accident or fire."
According to MSHA records for the current operator dating back to 1995, inspectors cited the mine with more than 1,100 violations. Genwal Resources paid out more than $260,000 in fines. This year there were 32 violations. Fourteen of those were deemed significant, meaning likely to cause injury. Those violations are in the medium range, according to a former MSHA director.
During those dozen years, one worker died in a conveyor accident in 1997. Fifty-five workers were hurt on the job. Most of those injuries that we reviewed online did not keep the workers off the job. They were things like slips and falls, back injuries from lifting, a broken foot from falling coal, a ripped fingernail.
The mine owner calls the record excellent.
"I take the safety of my employees to bed with me every night," said Robert Murray of Murray Energy Corporation. "And we will be here on our feet until we get these men out, one way or the other."
The records also show the Crandall mine has a lower incidence rate for accidents than the national average.
×
Most recent Utah stories