Estimated read time: 2-3 minutes
This archived news story is available only for your personal, non-commercial use. Information in the story may be outdated or superseded by additional information. Reading or replaying the story in its archived form does not constitute a republication of the story.
Alex Cabrero Reporting People in Gunlock kept cleaning up today from the flood that washed through their Southern Utah town on Wednesday. Right now they are focused on getting mud and water out of homes. Later, they'll all put their attention on the town's most popular spot.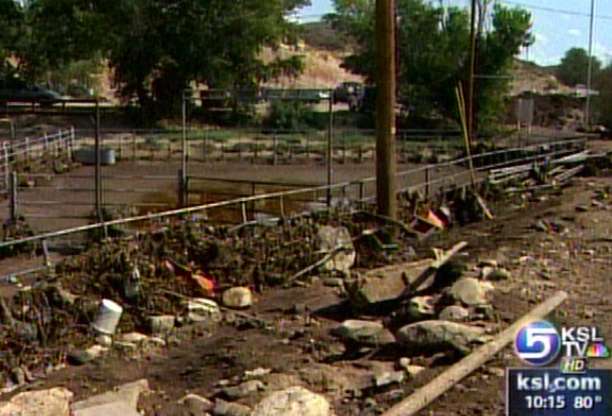 Gunlock is a very quiet town; that's why people live there. Today, though, you couldn't go anywhere without hearing those CAT machines running and back-up beeping noises from heavy equipment. What everyone is hoping you'll hear later, though, is their rodeo.
What's the West, without a rodeo? Or for these folks, what's Gunlock without one?
Yeah, there's something about the big July 4th rodeo in this small Washington County town that everyone looks forward to.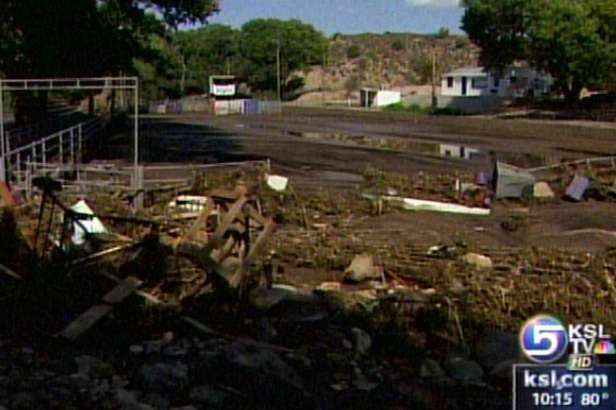 "The streets are lined with cars. Little kids are running around chasing chickens," Aplanalp says.
But after the big event Wednesday,the big flood event, he rodeo grounds looked like cowboys would be riding whales instead of bulls. The water wiped out fences and left behind plywood, garbage cans and other debris that came from somewhere else. Residents couldn't believe it.
Jay Leavitt says, "It makes you sick, just makes you sick."
Leavitt, president of Gunlock's rodeo association, says they just finished fixing the rodeo from the floods two years ago. Now, they'll have to do it all over again. "We'll build it back. Hopefully better than what it was," Leavitt said.
This rodeo isn't just for fun and entertainment, it's also Gunlock's only source of income. "It takes care of the cemetery. It's helped out water system in the past, it's helped our irrigation system," Leavitt said.
The rodeo brings Gunlock about $25,000 a year. Without it, there's no money for town projects. Leavitt said, "This is really vital to the town of Gunlock, and it means a lot to a lot of people."
So when the flooded homes are cleaned, you can bet the whole town will start cleaning the rodeo, no bull about it.
Gunlock's rodeo runs for three days on the 4th of July holiday, and that's it. Residents have a year to clean it. They haven't missed a rodeo since it started in 1945 and say 2008 will continue that streak.
×
Most recent Utah stories