Estimated read time: 3-4 minutes
This archived news story is available only for your personal, non-commercial use. Information in the story may be outdated or superseded by additional information. Reading or replaying the story in its archived form does not constitute a republication of the story.
LAYTON -- They were fired after disarming a man with a gun who said, "Don't make me do this." Now, those workers from a Layton Walmart are at the heart of a lawsuit filed against the world's largest retailer.
Three of the "Layton Four" featured in an exclusive KSL investigation in February -- along with a former Cedar Hills manager and two former West Valley loss prevention workers -- are the plaintiffs. Their lawsuit, filed Wednesday in 2nd District Court in Davis County, names six causes, including wrongful termination and violation of plaintiffs' right to self-defense under the Second Amendment.
"Our concern is that Walmart has put their employees and customers at risk to preserve their bottom line," said Lorraine Brown, attorney for the plaintiffs.
---
Our concern is that Walmart has put their employees and customers at risk to preserve their bottom line.
–Attorney Lorraine Brown
---
The lawsuit seeks compensation for the loss of what Brown terms "career positions." The text of the lawsuit asks for compensatory damages for "emotional distress, humiliation and anguish," among other things.
For many of the workers, it has been a tough road since their terminations. Shawn Ray, fired from the Layton Walmart for intervening and stopping the shoplifter with the gun, still has not found a new job more than three months later. Before, he'd been planning to move into a new house.
"The bills are piling up," Ray said. "The house is not even an option now."
Ray maintains that how he, Gabriel Stewart, Lori Poulsen and Justin Richins acted was "the right thing to do." Richins is not part of the lawsuit; Brown said he had found a better job.
Derek Holt and Eric Hunter, also plaintiffs in the case, feel the same way. Holt was a loss prevention manager and Hunter was a loss prevention associate at the Walmart at 3180 South 5600 West in West Valley.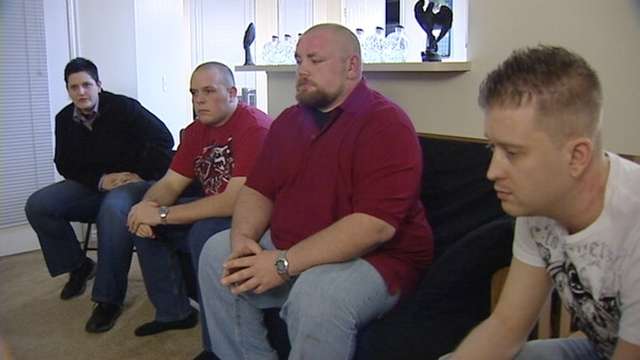 Last Christmas Eve, they were trying to escort a shoplifter when she pulled a knife.
"Eric Hunter started screaming, 'Knife,' and that's when we had a hold of her," Holt recounted to KSL Thursday.
As Holt looked for the knife, he said he found it pointed right at his back. As the workers were struggling with the woman, a customer ran up and grabbed the knife.
The two employees were later fired.
"I'm glad that somebody's finally standing up and trying to get them to at least change their policies, because I don't want this to happen to anybody else," Holt said.
The sentiment has also been expressed by the sixth plaintiff, James Dallin. He explained to KSL in February that he had acted quickly to protect a co-worker in a domestic violence incident in the store. He was fired as well.
---
We just can't have associates trying to take matters into their own hands.
–Walmart spokesman Greg Rossiter
---
"If I'm a shopper at Cedar Hills or if I'm a shopper at the Layton Walmart, I'm certainly concerned," Dallin said Feb. 10.
Walmart addresses lawsuit
Walmart was quick Thursday to dismiss the basis behind the lawsuit.
"We just can't have associates trying to take matters into their own hands," Walmart spokesman Greg Rossiter said by phone.
Rossiter said Walmart's policy is standard with other retailers and is "in place to help ensure everyone's safety."
KSL obtained a copy of policy "AP09" in February. It's the policy pertaining to how to deal with shoplifters. It instructs if a weapon comes out during an encounter with a shoplifter, associates are supposed to "disengage" and "withdraw."
Rossiter also said the information provided by the former workers did "not accurately reflect what took place."
The plaintiffs are sticking to their stories, and hoping to stick Walmart for damages to help their struggling families.
"That's all gone out the window, so we're looking at reimbursement for lost wages and that career position," Brown said.
Email: aadams@ksl.com
×
Related links
Related stories