Estimated read time: 4-5 minutes
This archived news story is available only for your personal, non-commercial use. Information in the story may be outdated or superseded by additional information. Reading or replaying the story in its archived form does not constitute a republication of the story.
MURRAY — Vera Davis was born with an abnormal condition that can prove difficult for blood vessels. But in her 28 years, she never really had any problems with her heart.
That all changed about a month ago, when gut-wrenching pain shot through her chest.
With an enlarging aortic aneurysm threatening to rupture and end the flow of blood to her brain, Davis ended up in an emergency room in her hometown of Kanab, was then flown to see a specialist in St. George and later, landed under the care of three doctors at the Intermountain Medical Center.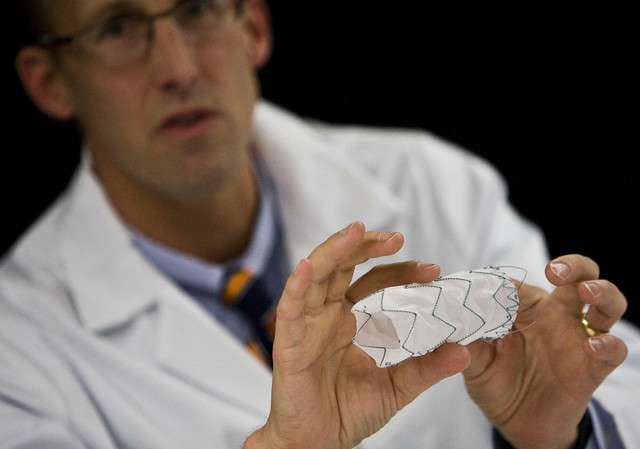 They now consider her a "modern medical miracle," said Dr. John Doty, a cardiac surgeon who helped to perform three separate surgeries on Davis.
"This was innovative technology that we brought to a confluence, to treat a very unusual problem," he said.
Doty — along with vascular surgeon Dr. Douglas Wirthlin, and interventional radiologist Dr. Duane Blatter, who all work at Intermountain's Center for Aortic Disease — had little time to develop a plan to save Davis' life. It would be tricky because Davis was born with Turner Syndrome, a rare chromosomal disorder that can cause cardiovascular malfunctions, including aortic aneurysms and valve problems.
Davis' aortic aneurysm was nearly the size of her heart, and was growing. Due to her unusual anatomy and the location of the aneurysm, a traditional approach would have cut off blood flow to her brain or arms.
The doctors had no idea how long it had been there, but without immediate attention, the bulging blood vessel could have burst and killed her.
"Vera had five major interventions and every single one carried a risk," Wirthlin said. "But doing nothing was an even bigger risk."
It was the first time that three doctors from three different disciplines within Intermountain Healthcare's system were brought together in surgery to save a life. They believe it may also be the first time in the country, perhaps even the world, that such a unique attempt was made.
In fact, Davis' parents had said goodbye to their daughter prior to the procedure — just in case.
"We knew all the risks and knew that she may not come back," Cecilia Tait, Davis' mother, said.
On April 25, Doty and Wirthlin worked simultaneously on either side of Davis' body, to perform two bypasses from the arteries in her neck to the arteries in her arms, which were being fed by blood from the aneurysm.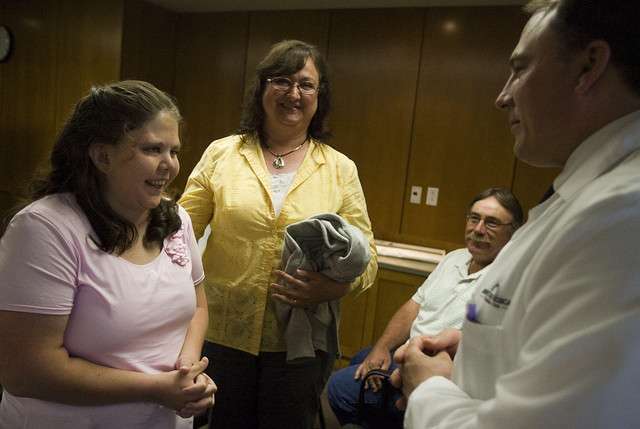 Two days later, Blatter, Doty and Wirthlin used a catheter to precisely place an endovascular stent-graft inside the aneurysm, which sealed it off. Then Blatter used a smaller device to deploy 42 tiny stainless steel coils into the abnormal artery, causing Davis' blood to clot, preventing it from again filling the enlarged artery.
Then on May 2, Blatter placed even more coils to further seal the aneurysm and keep blood from filling the woman's left arm.
It wasn't until after all three surgeries that the doctors — who had performed the individual surgeries independently numerous times, albeit not on an abnormal artery — knew it had worked.
The shortest time period throughout the whole thing, Wirthlin said, has been Davis' recovery. With only two clean scars on her neck and one at her inner thigh, the life-changing surgery will soon be nothing but a memory. And Davis will never forget it.
"I was scared I might not come out of the surgery," Davis said, adding that most 28-year-olds don't think about death. "But I thought, 'These doctors know what they are doing and they are going to do the best they can.' It's hard to grasp how lucky I am to be alive today."
Davis, who has a degree in elementary education, now has plans to find a job and is looking forward to living her life without worrying about her heart.
"I need to figure out what my purpose is," she said.
The surgeons, who donated their time and expertise to the cause, will likely publish their experience in a scientific journal and Doty said he hopes the information, which was a collaboration of more than a dozen minds, will help other patients with similar circumstances in the future.
"This was a challenging case. A very, very rare case," Blatter said. "We could not have done this except as a team."
-----
Written by Wendy Leonard with contributions from Richard Piatt.
×
Most recent Utah stories