Estimated read time: 4-5 minutes
This archived news story is available only for your personal, non-commercial use. Information in the story may be outdated or superseded by additional information. Reading or replaying the story in its archived form does not constitute a republication of the story.
TOOELE -- The Miller Motorsports Park features one of the premier outdoor motorcycle and car racing tracks in the nation. Many spectators don't realize that they can join in on the action.
Andrew Johnson, marketing director at the park said, "You can come out and watch people do things or you can come out and do it yourself."
The park, located at 2901 N. Sheep Lane in Tooele, offers numerous driving and riding courses, like the Ford Mustang Experience. You drive the Mustang around the track for 10 laps, then take a thrill ride with a professional driver.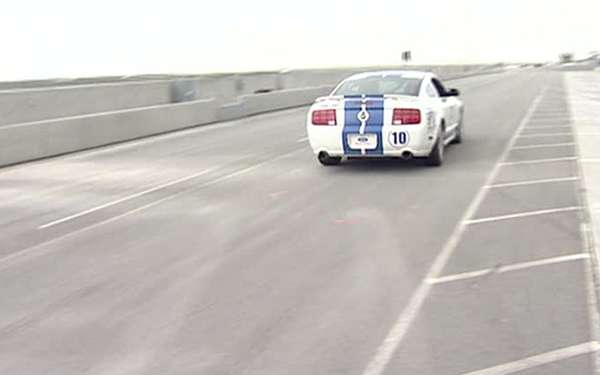 Brady Casper, 17, tried it then explained what he appreciated most. "Probably the acceleration and the sound of the cars," he said. "They're really fast and they've got really good grip and suspension."
Johnson said, "To strap yourself into a race-prepared Mustang, it's an exhilarating experience."
I took a spin and discovered he's right. I often drive fast, but the feeling of zipping along the twists and turns is a whole different experience. We hit 105 mph on the straightaway and 100 mph through a couple of turns called "fast" and "faster."
The park also offers go-carts, some of which go faster than 40 miles per hour. One session buys you 13 laps to test your speed.
Customer Matthew Codevilla said, "It was a lot of fun, just being able to go that fast when you're a kid."
Jeff Codevilla added, "If you go too fast you can spin out, and if you go too slow you get passed. If you get on the little blue things, it can flip you over. But it's a lot of fun."
You can learn the art of rock crawling through an off-road instructor course.
And the newest attraction, just installed last month, is a motorized zip line.
"You actually load at the bottom and pull up to the top, then they release you at the top," Johnson explained. "One will come down at about 40 miles per hour; one will come down at about 20 miles per hour."
Many events are planned at the park through the summer. One of the biggest attractions of the year, The Big M, takes place on Memorial Day weekend. It features the FIM Superbike World Championship.
Check the Miller Motorsports Park website here for more information.
Petting the sharks at Bonneville Seabase
If speed and cars aren't your thing, Tooele County also has a unique opportunity for snorkeling and scuba diving. We may not have the ocean, but we have the Bonneville Seabase -- geothermal hot pools of salt water.
Over the years hundreds of tropical fish have been placed into the waters and since then have multiplied. The pools are home to a couple of stingrays and two 8- to 10-foot nurse sharks, which are docile.
Families can snorkel at the Seabase and don't need to bring their own gear. You can also scuba dive or train to learn how.
The Seabase features three different pool areas for public use, including a covered bay where the sharks hang out.
Scuba diver Dan Hatfield said, "It's great. You get to see tropical fish. There are some sharks out here that you can pet. I ran across one on the bottom down here. It's really neat, took some pictures of it, got to pet it."
Ron Simmons is caretaker at Bonneville Seabase. He told KSL, "There's no place else in the country like this, that's inland, that's salt water and has the amount of fish that we have."
In the mornings people can also pay $5 to see the fish feed. Some even get a chance to pet the sharks when they come up for food.
Skydiving
If that's not adventurous enough for you, you can always try skydiving in Tooele County.
Skydive Utah operates in Erda, just outside of Tooele. It's one of only four locations in the state where you can skydive.
The company CEO, Jack Guthrie, says everyone is at least a little nervous the first time. But he says once customers step foot out of the plane, they feel like an eagle in flight.
"You can tell that it's high-speed but you're so far away from the ground you can't tell you're falling. There's just a tremendous sensation of buoyancy," he said.
Skydive Utah has one of the two fastest aircraft in the world used by civilian skydivers.
More information is available at the company's website here.
×
Related links
Related stories
Most recent News stories