CEDAR CITY — The Utah Shakespeare Festival is celebrating its 50th anniversary this season. The original idea for the famous open-air theater was born in the Fluffy Bundle Laundromat. It no longer exists, but the vision that Fred Adams and his late wife, Barbara, had there in 1961, grew more incredible than even they imagined.
It was simply a dream, but the dreamer had a vision. Fred Adams, a theater professor at Southern Utah State College, and his wife, Barbara, came up with the idea of Shakespeare on the lawn with folding chairs. Some 25 students and friends volunteered to build scenery and sew costumes.
What's Playing
2011 Season Calendar
In the Adams Shakespearean Theatre
A Midsummer Night's Dream
Richard III
Romeo and Juliet
In the Randall L. Jones Theatre
The Music Man
The Glass Menagerie
Noises Off!
The Winter's Tale
Dial M for Murder
History of the Utah Shakespeare Festival
The Utah Shakespeare Festival presented its first season in 1962.
"Our task was not to sell Shakespeare; he does that himself," Fred Adams said in an interview in 2001. "Our task was to do justice to Shakespeare."
It worked.
Next came more experienced cast and crew members. By 1977, the festival needed a theater. The price tag: $18,000. Festival managers didn't have it.
"Two donors stepped forward and said, 'We'll help you build this building,'" said Scott Phillips, artistic director for the Utah Shakespeare Festival in 2001. "It's been these kinds of miracles that have got us through every step of the way."
In 1981 came recognition. The BBC and Royal Shakespeare Company traveled to Cedar City. They chose to film here, in then the closest replica to Shakespeare's theater in the world.
"You come to Utah and it's your language, it's Shakespeare, it's wonderful. It's like coming home," said actor Jeremy Irons with the Royal Shakespeare Company in 1981.
In 1989 the festival expanded, opening an indoor theater and producing the plays of "Shakespeares of Other Lands."
"The intention of this theater has always been that it would be a showcase for the other masters, the other great playwrights of the world," Fred Adams explained.
And in 2000, the Utah Shakespearean Festival received the American theater's highest honor: a Tony. They celebrated in New York City and then brought the coveted Tony Award for America's Outstanding Regional Theatre home to Cedar City and a grand celebration.
Founder marvels on 50 years
The Fred Adams philosophy was to create a people's festival — make the words of the greatest playwright of all time not only come to life but accessible.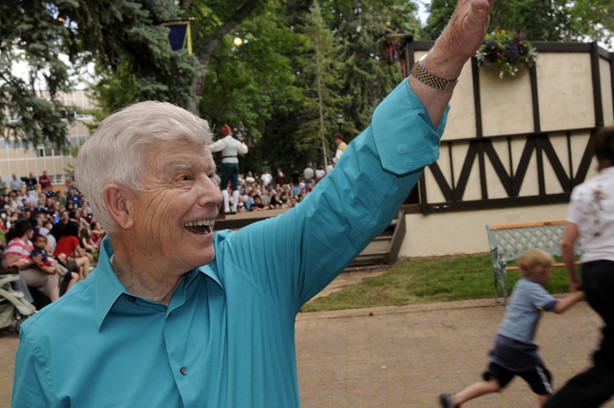 In the first year of operation, the festival attracted 3,276 visitors. Today, the audience is projected to be nearly 150,000.
This year's festival includes three shows from the famous open-air theater and another five in the indoor theater through this fall.   
The festival has grown from a budget of under $1,000 in 1961 to over $6 million today. Nearly 65 percent of the festival's budget is funded from ticket sales and concessions, with the remaining support coming from contributed income such as memberships, grants and foundations.
The Utah Shakespeare Festival will open its 50th season this summer. The actors and directors haven't arrived yet but preparations are underway behind the scenes.
When asked why he chose to do Shakespeare under the stars 50 years ago, Fred Adams replied, "I knew I couldn't go wrong." He was right.
As opening night approaches, the memories of productions past wash over the man who dreamed them into being 50 years ago.
"There are days when I think it couldn't be 50, it has just been a romp," he said. "And then there are days when you're kind of discouraged and you think, 'Oh, will I make, will I make it to the 50th? But we have."
Costumer gives peek inside festival preparations
But before audiences fill the seats and watch cast and crew make magic, from the drawing board to the dressmaker's dummy, the costumes for "A Midsummer Night's Dream" are literally beginning to take shape. With seven weeks away from opening, the big push is on.
Celebrate the 50th
Everything begins at BYU's costume shop. Janet Swenson has taught there for 39 years, but this will be her 19th season with "Utah Shakes," as insiders call it.
She has designed the costumes for the play Fred Adams — who is coming out of retirement — will direct.
He says he loves the play. 
"I wanted to do "A Midsummer Night's Dream" that all of the children — in this five state region – would come and see and say, 'When I grow up I want to do that,'" he said.
"Fred is the kind of glitz and so, as long as it sparkles, he's gonna love it," Swenson said. "So, I have a lot of sparkles here."
There will be sparkles for the fairy queen's veil and feathers for the fairy king.
"I guess I'll tell you a little secret," she said. "When Titania walks across the stage, her cape extends and covers the floor so it looks like the stages turns into her cape. It's going to be very cool. So, I have a lot of knitting to do."
Soon the words of the Bard will echo once again in southern Utah.
"There is something in that writing that transcends us today," Adams said. "It points a way for us to tomorrow. We discover ourselves and that's what Shakespeare is — it's a discovery of ourselves."
The 2011 Utah Shakespeare Festival opens with preview performances on June 23 and continues through October 22.
Email:cmikita@ksl.com
×
Related Links
Related Stories