Estimated read time: 2-3 minutes
This archived news story is available only for your personal, non-commercial use. Information in the story may be outdated or superseded by additional information. Reading or replaying the story in its archived form does not constitute a republication of the story.
Carole Mikita Reporting August 6 and 9 will mark the 62nd anniversary of the atomic bombings of the Japanese cities of Hiroshima and Nagasaki. A new documentary tells the stories of survivors. Carole Mikita talked with one of them.
The Salt Lake Film Center hosts the Utah premiere of "White Light/Black Rain." The film takes a detailed look at the bombings and their aftermath.
For many of the survivors, this is the first time -- other than with a few family members -- that they have ever talked about what happened.
A line from the film says, "The only thing I knew was I had to find a safe place."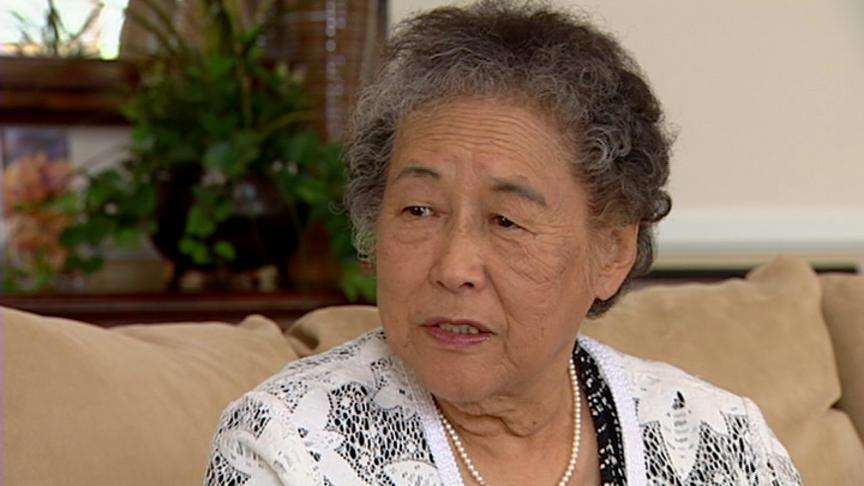 August 6, 1945. The atomic bomb is dropped on Hiroshima. In a new documentary, the survivors show how it looked on the ground and describe how it felt.
"I saw something, a white thing, drop. We were eating and suddenly we saw the flash."
Academy Award winning filmmaker Steven Okazaki says most survivors were shunned as living reminders of surrender.
"There is still a considerable amount of shame attached to being a survivor. There is still discrimination against them. So, it's an act of courage just to speak out, to be in a film like this," he said.
Salt Lake resident Tomiko Sato was born in Wyoming, but her parents sent her to live with family in Japan during the Depression. She was 20 miles away from Hiroshima.
She recalls, "[It looked] like a mushroom. Then it turned light pink. Then all of a sudden it started getting dark."
She ran back to her grandmother's house, believing the Americans had dropped poisonous gas.
"Many of my villagers were in the city, so they got scars," Sato said.
Tomiko Sato, like everyone else, scrounged for food. But she did not witness or experience what so many others did.
"I saw two burned bodies," she said.
Okasaki hopes his film will leave an impression on the next generation.
"We've let the survivors speak for themselves. There are four Americans, the men who dropped the bomb are in the film. We don't play good guys, bad guys. I don't think that's necessary. The important thing is to tell the story," he said.
The screening takes place tonight at 7:00 at the Rose Wagner Performing Arts Center in downtown Salt Lake. It is free to the public. The filmmaker and several survivors will be there. The documentary will air August 6 on HBO.
×
Most recent Utah stories