Estimated read time: 3-4 minutes
This archived news story is available only for your personal, non-commercial use. Information in the story may be outdated or superseded by additional information. Reading or replaying the story in its archived form does not constitute a republication of the story.
Jed Boal ReportingFor every American troop killed in Iraq, 15 others survive their wounds. Among those wounded warriors, many bear scars we cannot see. An experimental program aims help those vets battle the enduring demons of war.
Many of us get a lift from life in the mountains. It's even therapeutic. The Wounded Warrior Project and the National Ability Center teamed up to harness that mountain healing and offer Marines and soldiers a retreat with psychological rewards.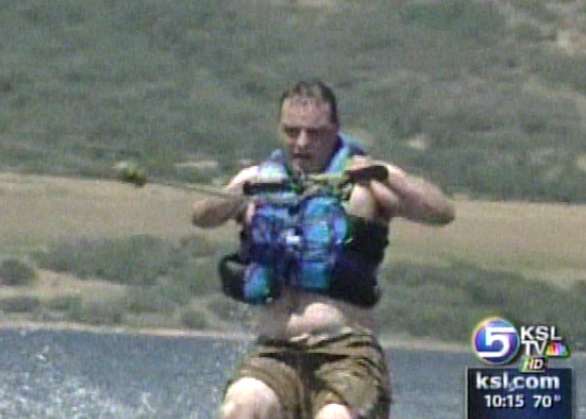 Popping out of the water on skis takes balance, strength and skill -- no simple feat, especially when battle wounds challenge the skier. But a week of new outdoor adventures and group therapy in Park City gives the vets new tools to cope with post-traumatic stress disorder (P.T.S.D.)
John Roberts, national service director for the Wounded Warrior Project, says, "Water's beautiful, scenery's great. It's going to be a good day for these guys."
For the vets with scars that aren't visible, this environment helps them open up to more healing. The Wounded Warrior Project brought 13 Iraq War veterans from across the country to the National Ability Center to confront their P.T.S.D., that's the biological-psychological reaction to life in a deadly situation.
Some vets suffer nightmares, others get angry or abusive, are withdrawn and depressed, and raise fears in their families. All want to be understood and better understand themselves.
Veteran Jeff Craig says, "This is awesome! This is great for the spirit!"
It's inner spiritual healing they can share with each other, people they trust.
Veteran Chris Ayres says he "instantly established that bond, right off the bat."
They lean on each other to make breakthroughs for themselves. "Seen combat, been wounded. Dealt with the same stuff, seen the same stuff," Ayres says.
The Iraq War threatened their lives, frayed their nerves and killed their comrades. The experience severely scars the psyche of many returning troops. A Pentagon task force found more than one-third of troops and veterans currently suffer from problems such as traumatic brain injury and post traumatic stress disorder, yet only one-fifth of those get the treatment they need.
But, these vets are making strides.
Julie Davis, program officer with the National Ability Center, says, "You know that phrase 'When the student is ready, the teacher will appear?' I think for them, a lot of the teachers were meeting the others who had been in similar situations."
The National Ability Center helps people of all ages and abilities develop life skills through adaptive recreation activities, so it was a good place for the pilot program of Wounded Warrior Project.
That brings us back to the water, where not every effort is a victory for retired Marine Captain Chris Ayres who had the back half of his leg blown off in battle. Every day doesn't always get better, and the nightmares and trauma continue to haunt him. "It doesn't go away; you just learn how to manage it, learn how to deal with it," he says.
×
Related links
Most recent Utah stories