This archived news story is available only for your personal, non-commercial use. Information in the story may be outdated or superseded by additional information. Reading or replaying the story in its archived form does not constitute a republication of the story.
We want to hear from you. We have activated our beta comment board system while we are testing it. Please comment on the story and share your thoughts.SALT LAKE CITY -- It's a major helping hand from Corporate America to the uninsured in the Salt Lake Valley.
A $500,000 gift from the charitable arm of General Electric is going to Community Health Centers over two years to two of their facilities in Utah.
It's part of GE's broader "Developing Health" program. The company is spending $50 million over three years in hopes of improving access to groups like the uninsured.
---
Nearly 16 percent of the U.S. population is without health insurance. Of those uninsured, 9 million are children.
---
The company is also pledging volunteer support -- essentially, consultants -- to come in and make sure these facilities are being run efficiently and to make sure they're helping as many people as possible.
Doctors at Community Health Centers Community Health Centers say their clinics -- which determine their emphasis based on community need -- offer a model that can work across the country.
"You don't have the worries of, if somebody sends a one-size-fits-all, what if it doesn't fit the local community," said Dr. Keith Horwood, a physician at the center.
Community Health Centers says it's in great need of help. Though they help as many people as they can, there are still a lot of uninsured families they simply don't have the resources to help.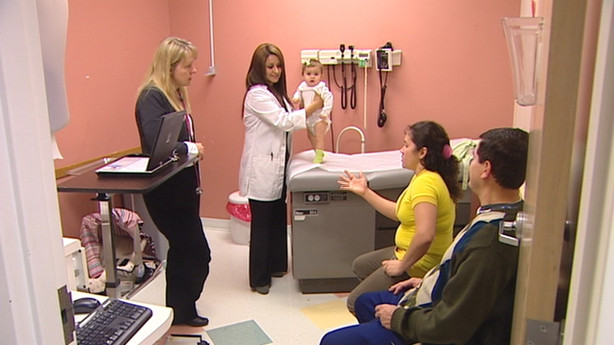 The organization says it's felt the cutbacks at the federal level, and it needs the money to maintain and improve services.
"I think it's going to take the work of many to find a solution to health care," said Gov. Gary Herbert. "It's a difficult issue, very complicated, and it's a discussion we need to have."
Herbert is suggesting this kind of support may be part of the future of health care in this country, since Uncle Sam can't pay for it all.
"This is a great example of the private sector stepping up and saying, 'We can help out,'" he said.
The governor is planning a health care summit later in the year to come up with some more answers.
GE wasn't the only one making a contribution Tuesday. Two young brothers, David and Dallas Dutson, saved up their extra money from the past two summers to contribute.
"That's what me and my little brother were trying to do, is help out," David said.
"They came up to me and said, 'We don't want to spend the money at Disneyland, we want to donate it to Community Health Centers," said the boys' grandmother Gerry Marty.
But it turns out, the boys are getting a trip. GE is giving them a paid vacation to say thank you.
Email: aadams@ksl.com
×
Related Links