Estimated read time: 2-3 minutes
This archived news story is available only for your personal, non-commercial use. Information in the story may be outdated or superseded by additional information. Reading or replaying the story in its archived form does not constitute a republication of the story.
John Hollenhorst ReportingPioneer Park is probably best known today as a hangout for the homeless, but what a lot of people don't realize is the same negative reputation existed more than 150 years ago and brought a swift response from city leaders.
Just last week, a letter to the editor demanded that Rocky Anderson clean up Pioneer Park. It brings to mind an old quote attributed to Mark Twain: "History doesn't repeat itself, but it rhymes."
Pioneer Park is a place for travelers to relax and a temporary home for those without one.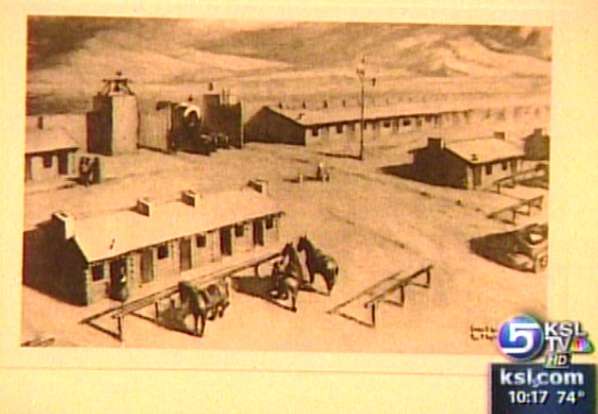 Gene Barton, a homeless traveler, told us, "They want their peace, and they can't find it. It's hard to find it in this world."
Passersby sometimes wonder what kind of park it is.
Fourteen-year-old Micklo Martinez observed, "I don't see no little kids here; they're all grownups."
Flip back the pages of the calendar, way back. It once was a park where moms would take their kids.
Go back even further and there was "The Old Fort." Mormon pioneers spent their first year or two there. By 1849 most had moved out to separate homes.
Fred Aegerter researched the park's origins for the Utah Historical Society. He tells us, "The fort area became very derelict and you start to have a lot of concerns about what's going on down in the fort area."
Like today, the fort became a stopping point for travelers, many on their way to the California Gold Rush. "The type of people who were hanging out in the fort, they were considered a nuisance," Aegerter says.
In 1851, a grand jury demanded action with a sharply worded resolution. "The old fort is a nuisance to this city and a filthy, unwholesome place, fit for nothing -- only a cage of unclean beasts, and hardly that."
The city council immediately ordered the fort demolished. It paved the way for today's park where a sad reality echoes the history.
A Sudanese immigrant and community activist says those who use the park should not be judged harshly for the mental and economic troubles that brought them here. Orich Idris says, "We have homeless shelter over here and it's not enough for all these people on the street. But yet, we pay attention more to the animals and we allow these people here to suffer."
The park's image has been improved lately by the weekly Farmer's Market. That's an echo of history, too. After the Old Fort was torn down, the city block was a farm field before it became Pioneer Park.
×
Most recent Utah stories