This archived news story is available only for your personal, non-commercial use. Information in the story may be outdated or superseded by additional information. Reading or replaying the story in its archived form does not constitute a republication of the story.
SALT LAKE CITY —Fore more than a year, Miguel Mateos-Martinez was living in Mexico, where he fled after shooting and killing Faviola Hernandez during a robbery at her Glendale neighborhood salon in 2007.
Tuesday, a judge ordered him to spend the rest of his life in prison. He was sentenced to a life term without the possibility of parole.
In February, a jury convicted Mateos-Martinez of aggravated murder, two counts of aggravated robbery and two counts of aggravated assault in the Aug. 15, 2007 robbery and shooting.
Both a woman who was in the getaway car and a former jail inmate testified that Mateos-Martinez admitted shooting the shop owner.
"It was me or her, so I pulled the trigger," prosecutor Patricia Cassell said, paraphrasing a note Mateos-Martinez allegedly passed to a fellow inmate.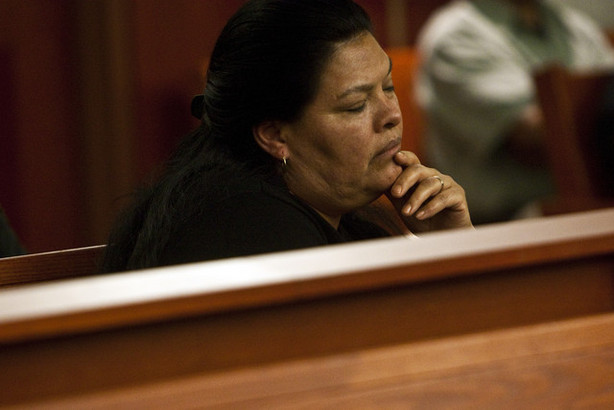 Mateos-Martinez opened fire on Faviola Hernandez after she went into an adjacent room and returned with a small handgun instead of money. Two witnesses — a client and Hernandez's younger sister — identified Mateos-Martinez soon after the shooting and in court as the robber who fired a single shot into her chest.
At the sentencing, some of Hernandez's family wore shirts with her picture on it. They say Mateos-Martinez deserves to go to prison for the rest of his life, and that the judge's sentence is justice for Faviola.
"She is happy. Now she's happy," said Faviola's mother Rosa Hernandez.
In court, Mateos-Martinez turned around and looked at Hernandez's family. He apologized, and acknowledged that his apology was not going to bring their daughter back.
Mateo-Martinez said his motive was robbery. "I was just going to go get the money and that was that," he said.
Mateos-Martinez also said he was in a gang and that he's been living that life for a long time. "It's not that I'm proud of it," he said, "but it's all I know."
The family says Martinez's apology was not sincere.
"Sorry is not going to bring my daughter back," said Rosa Hernandez.
------
Story written by Paul Koepp with contributions from Sandra Yi.
×
Photos
Related Stories