Estimated read time: 2-3 minutes
This archived news story is available only for your personal, non-commercial use. Information in the story may be outdated or superseded by additional information. Reading or replaying the story in its archived form does not constitute a republication of the story.
Courtney Orton ReportingAs the fires throughout the state rage on, more and more cities are heeding the governor's request to ban fireworks.
Many fireworks stands around the valley aren't open yet. By law, fireworks can only be set off for three days before and three days after the holiday. The difference this year is where you'll be allowed to set them off.
If you're planning on using fireworks as part of your 24th of July celebrations, don't plan on setting them off in Salt Lake, Holladay, Draper or Eagle Mountain. Each of those cities has implemented a full fireworks ban.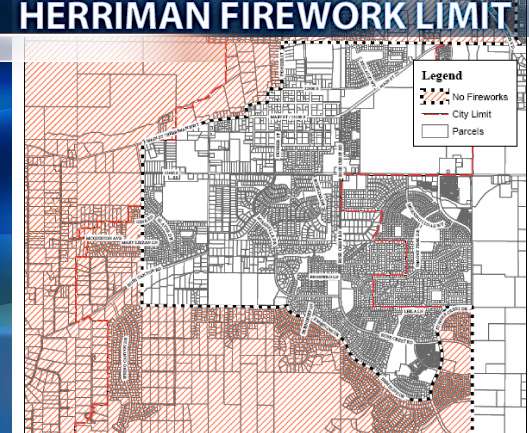 Eagle Mountain decided to adhere to the Governor's request because they're following a water conservation plan after the city's well broke down a week ago. The city of Herriman is implementing a partial ban for the 24th of July.
Herriman City Councilman Jerry Walker, said, "Rather then have our officers, and we do have extra officers on the 24th of July, rather than having them patrol the whole town, they can now patrol the perimeter and make sure that people don't use fireworks outside of the perimeter."
It's doing so by using a system it used for the Fourth of July. The city has created a perimeter where fireworks are allowed. The system gives officers an easier way to control illegal fireworks, which can be more dangerous.
Walker says, "In addition, obviously when you see a firework in the area, then they can go to that spot and cite those people."
Murray, West Jordan and South Salt Lake issued "voluntary" bans. Some of the people we talked to on the street didn't agree with the bans.
"I don't think that's right. I think everyone should be able to have fun on the 4th or 24th."
"I think it's pretty ridiculous. It's a lot of fun for the kids especially."
Others believe the ban is a good idea.
"I agree with him> I think everybody should cooperate. I think it's something everyone should be able to do. It's common sense."
"It's fine by me. As dry as it is, I think it's a good thing to do at this point. Don't want to start a place on fire."
×
Related links
Most recent Utah stories