This archived news story is available only for your personal, non-commercial use. Information in the story may be outdated or superseded by additional information. Reading or replaying the story in its archived form does not constitute a republication of the story.
SALT LAKE CITY — The only time Brent McPhie ever saw his father discouraged was at a time when doctors couldn't provide the necessary answers. At 83, Walter McPhie was very unsure of how his life would play out.
He died of bladder cancer in December 2009, but the last six months of his life were comfortable, due mostly to the Palliative Care Program at University Hospital.
"They really made the difference for our family," Brent McPhie said Thursday. "There is no way we'd have survived without it."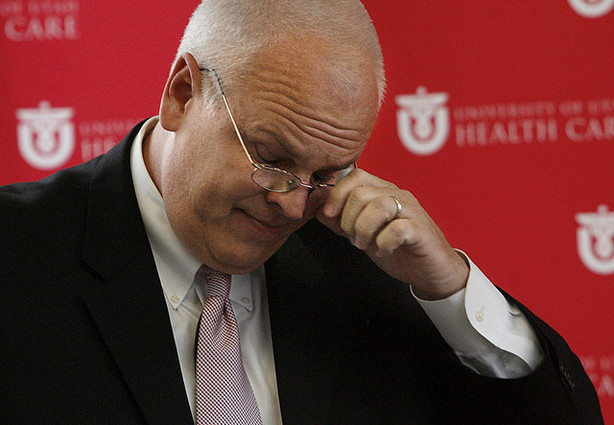 Death is a tough thing to face for any family and renovations made in three suite rooms at the hospital aim to make it easier on the families of those on their way out of this life. Those rooms were presented to the media and the public Thursday during a commemorative event.
They're not only the largest patient rooms at the hospital, but they are now the most comfortable, with a fold-out couch bed, multiple soft chairs, a mini-fridge and all the technical medical equipment associated with illness, quietly tucked behind closed cabinet doors.
The floors have been redone. There is a white board for personalized messages and the finishing touches make it feel more like "home," said program director and nurse practitioner Ginger Marshall.
Particularly unique for a hospital room, there is a glass cabinet in the corner that contains a selection of various religious symbols — the Holy Bible and a crucifix, a copy of the Quran, a yarmulke, the Book of Mormon and pictures of Jesus Christ, as well as statues of Bhudda and candles — which can be displayed at the request of each patient staying in that specific room according to their preferences.
But, as Brent McPhie said, "The rooms aren't as necessary as the people. The rooms are the cake, but the people are the icing."
A $55,000 grant from the Hearst Foundation not only covered the cost of the thoughtful renovations but paid for eight hours of education for hospital staff on end-of-life care, something relatively new to the medical scene.
"What really, really struck me was the compassion and commitment of this team," said Hearst Foundation representative Catherine Pyke. "This is very extraordinary. I have not seen a team like this in any other major medical center."
---
In the dictionary, palli- means to cover, encompass or mitigate, but to me it means being able to sit down with patients and families and be able to talk about what their choices are.
–Ginger Marshall, Palliative Care program director
---
#marshall_quote
"In the dictionary, palli- means to cover, encompass or mitigate," Marshall said, "but to me it means being able to sit down with patients and families and be able to talk about what their choices are. It's not my job, or any of my team member's jobs to tell people what to do. It is our job to give them information so they can make an informed decision."
Every patient, whether suffering from terminal illness or a chronic condition, has the choice to receive palliative care, where physicians, nurses and hospital staff help to "improve the quality of life through the physical, emotional and spiritual needs of the patient," said University Hospital Dr. John R. Hoidal.
"We really have a very, very multi-disciplinary, interactive program — comprised of physicians, nurses, social workers and clergy — that come together as a team to try to improve the quality of life for these very deserving patients," he said.
Marshall said that nearly one-third of patients afflicted with life-threatening illnesses end up dying at the hospital, while the remainder are often discharged and "lucky enough to die at home."
For those who choose to spend their final days under a doctor's care, the palliative care unit helps them manage their symptoms and offers bereavement services to the families of those ill. Established in 2006, the hospital's palliative care services have addressed the needs of more than 1,000 patients with life-threatening illnesses, cancer, AIDS, heart failure or serious illnesses, such as Alzheimer's or kidney failure. Patients and family members benefit from 24/7 service, family support, education and continuity through transitions in care.
"We all consider it an honor to participate in this time of patient's lives," she said. "This is a very sacred, private time in our patient's lives and the fact that they allow us in is an unbelievable privilege."
-----
Story written by Wendy Leonard with contributions from Carole Mikita.
×