Estimated read time: 2-3 minutes
This archived news story is available only for your personal, non-commercial use. Information in the story may be outdated or superseded by additional information. Reading or replaying the story in its archived form does not constitute a republication of the story.
Alex Cabrero and Gene Kennedy ReportingMembers of the 142nd Military Intelligence Battalion, Utah National Guard, are home today, and some haven't seen their families in more than a year.
The 142nd was supposed to come home in January, but their tour was extended as part of the troop surge. They've been in the country for a week, but are just now returning to Utah after undergoing debriefing in Wisconsin.
Airports can be happy places, and sad places. For Veronica Barrera, finally, the Salt Lake International Airport was a happy place. Her husband, Aaron, was one of six soldiers with the Utah National Guard finally coming home from Iraq. Now, the past 20 months are behind them.
Person after person walked through the airport, each of them someone else's loved one. Then finally she saw the Army patch, the U.S. flag patch, and the patch with her last name on it.
Those tears of sadness of nearly two years ago became tears of happiness today.
Lt. Aaron Barrera of the United States Army was now just plain husband and dad.
The applause just erupted as the soldiers arrived in terminal one. These are members of the 142nd Military Intelligence Battalion. When President Bush extended tours in Iraq, these are some of the soldiers who were affected.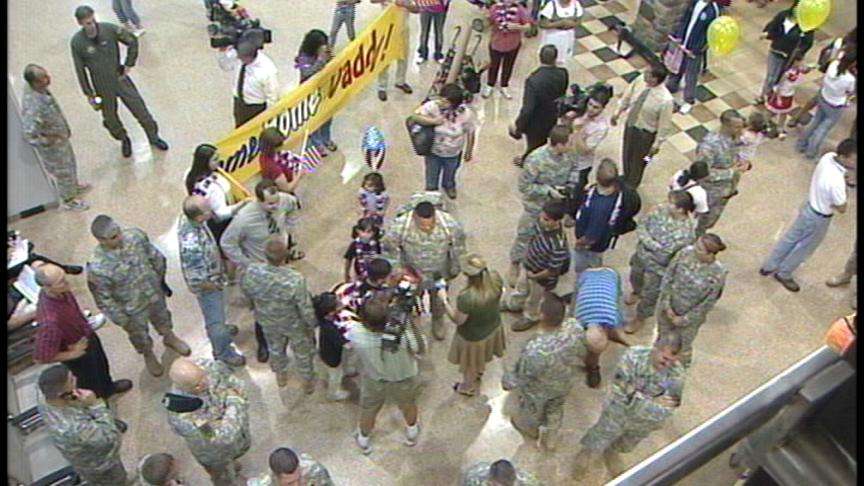 Berrera is one of those soldiers who served a long time in Iraq. He was there in 2005. Now he has returned home after serving 20 months. Berrera says, "Spend time with all five kids. This one I've only met him for a couple weeks. But I need a lot of time to catch up. I'm sure I missed a lot of time being away from these guys, but it was worth it." Aaron's wife says she wants to enjoy time and just go to the park and walk around.
So the soldiers of the 142nd and their families have a much-deserved vacation. There are no plans for the soldiers to head back to Iraq at this time.
However, soldiers from other companies who returned today will be heading back to Iraq in two weeks.
×
Most recent Utah stories