This archived news story is available only for your personal, non-commercial use. Information in the story may be outdated or superseded by additional information. Reading or replaying the story in its archived form does not constitute a republication of the story.
SALT LAKE CITY — A team at the University of Utah is developing a system that holds the promise of cleaning up contaminated water for millions, perhaps billions, of people around the globe. The secret? Electrified germs.
Contaminated water is one of the typical results of mining operations; but toxic metals also get into water from natural mineral sources.
---
We're able to get 93 to 98 percent removal of these contaminates within 12 to 14 hours.
–Mike Peoples, graduate student
---
"The problem is global, and at this point more than 2 billion people in this world don't have access to clean drinking water," Mike Peoples, a University of Utah graduate student, explained.
Peoples is working in the lab on a new way to get toxic metals out of the water. A few years ago Professor Jack Adams, with the University of Utah's College of Mines and Earth Sciences, helped pioneer the use of bacteria. Now he's turned up the juice, literally. Adding small amounts of electricity makes the germs work harder.
"Yeah, we like to say that we've got literally trillions of microbes that get a little charge out of working with us to remove these contaminates from the environment," Adams said.
The bacteria live on rocks inside a reactor vessel. Contaminated mine water circulates through it. Attached wires bring in electricity — electrons — that help the microbes chemically convert the metals into a harmless form.
"We're able to get 93 to 98 percent removal of these contaminates within 12 to 14 hours," Peoples said.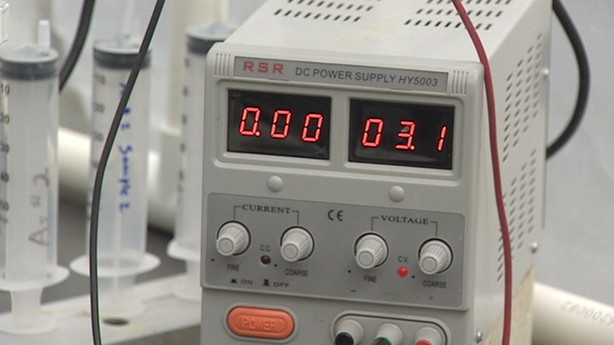 It doesn't take much electricity for the process to work -- a small charge does the job, 3 volts or less.
"Which is a flashlight battery," explained Adams. "A full-scale facility could be operated with a small solar grid."
Even a tiny village might be able to afford that.
They've tested the concept at the University of Utah with contaminated water from a Utah mine. Now, they're getting ready to test it on a larger scale in Canada.
Adams says the new method could be used for other industrial and agricultural wastes. The researchers say tests have shown that the electrons speed up the process in which the microbes removed pollutants such as arsenic, selenium, mercury and other materials.
Email:hollenhorst@ksl.com
×