Estimated read time: 1-2 minutes
This archived news story is available only for your personal, non-commercial use. Information in the story may be outdated or superseded by additional information. Reading or replaying the story in its archived form does not constitute a republication of the story.
(KSL News) The Utah Highway Patrol says an Ohio woman died Sunday in a three-vehicle collision on Interstate 215.
Troopers say speeding is to blame for the fatal accident that shut down I-215 at 3900 South for about 30 minutes.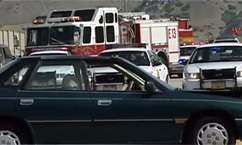 Troopers say the driver of a green Subaru was speeding and weaving through traffic southbound on the freeway when the car slammed into the back of an SUV. Troopers say as a result of that crash, a motorcycle traveling in the next lane flipped.
One person on the motorcycle, Barbara Landon, 74, of Monroeville, Ohio was pinned. She was flown to University Hospital with severe internal injuries. She later died.
Her husband, George, also on the motorcycle, suffered minor scrapes and bruises. Sgt. Keith Dockstader says both were wearing helmets. "You know, in this case she did have a helmet on. But if a motorcycle lands on top of you, the helmet's not necessarily going to help a whole lot," he said.
Troopers say this tragedy could have been prevent.
"If a speeding ticket or pending charges on a speeding ticket like this isn't scary enough for somebody, I hope that the thought of killing somebody is," Sgt. Dockstader said.
(The Associated Press contributed to this report)
- - - - - -
×
Most recent Utah stories