This archived news story is available only for your personal, non-commercial use. Information in the story may be outdated or superseded by additional information. Reading or replaying the story in its archived form does not constitute a republication of the story.
LAYTON — It may sound unusual for someone to thank God for being hit by a car, but Todd Handy did just that.
The Layton man, who works for Deseret Digital Media, suffered serious injuries when he was hit by a car while riding his bicycle on July 3, 2009.
"I was riding from Layton to Logan, and I got to North Ogden when the accident occurred and didn't ever make it," he said.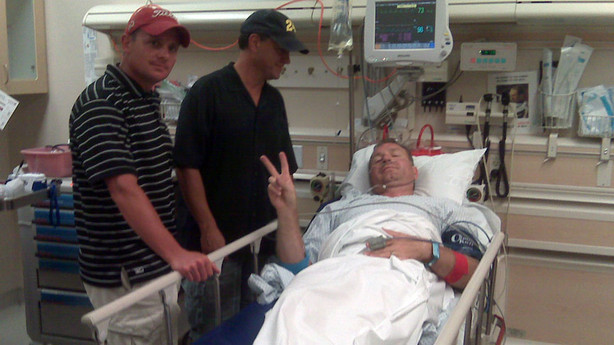 Handy, a cycling enthusiast, was on his way to join friends for the 206-mile, one-day, Logan to Jackson Hole challenge. The driver of a car didn't see him.
Handy feared he would T-bone the car and go through the windshield.
"I was able to bring it around to where my right side hit the passenger's side of the Jeep, but that's what broke the ribs, punctured the lung," he said. "I bounced off the Jeep, hit the ground and that's where the journey really started."
That journey began with an ambulance ride to McKay-Dee Hospital's emergency room and several X-rays. That night, some unusual thoughts came to him.
"What if it turns out we find something else? What if there is a reason for all of this?" he remembers thinking.
Todd's wife, Lisa, who had been waiting for him in Logan, had similar thoughts at the same time. "I was in my car and I just thought, 'I wonder if this is for some reason? If there will be something more to come of this,'" she said.
They were both right.
Dr. Robert Moesinger watched him through the night and reported some concerns. Todd remembers what the doctor told him:
---
I just felt it happened for a reason. It definitely is something that I found myself praying and thanking the Lord for allowing him to get hit by a car.
–Lisa Handy, Todd's wife
---
#lisa_quote
"I've just come from the radiologist, Mark Keeton, and he won't back down," Todd recalled. "He says you've got some lymph nodes that are a little too large, just a little bit out of tolerance, and he won't back down from the fact that he thinks we need to do a CT scan and take a look at those. It could be one of three things, it's either an infection, testicular cancer or lymphoma."
Both he and Lisa remember having a strong impression that it was lymphoma. And they both insist that throughout this time they never experienced panic and had a calm feeling settle over them.
Six weeks later, after allowing time to see what the lymph nodes would do, a CT scan revealed they had grown slightly. Before the biopsy, Moesinger, a cyclist himself, gave Todd the go-ahead to take that much-anticipated bike race.
The biopsy revealed follicular B-cell non-Hodgkin's lymphoma, slow-growing but incurable. If caught early, however, it is treatable.
After 17 radiation treatments, Todd is cancer free.
"It is rare to find a significant major finding or a life-threatening disease on an imaging study that is being performed for other reasons," said Keeton, the radiologist. "These cases are particularly rewarding for me because early diagnosis often saves the patient's life."
"Live by faith and not by fear," Todd said.
"I just felt it happened for a reason," Lisa said. "It definitely is something that I found myself praying and thanking the Lord for allowing him to get hit by a car."
Todd, Lisa and their three daughters plan to go forward following the message that hangs over their door frame: Enjoy the Journey.
Todd will need to see his doctors every six months to make sure the cancer has not returned. It could, he says, but now they know how to deal with it.
E-mail:cmikita@ksl.com
×