Estimated read time: 4-5 minutes
This archived news story is available only for your personal, non-commercial use. Information in the story may be outdated or superseded by additional information. Reading or replaying the story in its archived form does not constitute a republication of the story.
HEBER CITY -- "We'll be right back."
Famous last words leading up to a three-day ordeal for Brock Besner, 27, and Craig D'Allessandro, 24.
"We were just going out for quick ride," Besner said. "We learned a quick ride can go bad real fast."
The two were snowmobiling off the Lake Creek Trailhead Sunday -- a spot they visit often -- when heavy fog descended.
Related
"We would follow those tracks thinking they would lead us out, but they lead us in a circle because they were our tracks," Besner said.
Realizing they'd have to spend the night, the two started a fire and split the beef jerky and water they had on them. To get the fire started they soaked a pine branch in gas from their snowmobiles. They used a wire from one of the spark plugs on their sleds to spark it. The next night they started a downed tree on fire.
For the next two days they waited. A snow cave protected them from high winds and cold temperatures. It was so cold they slept practically in the fire; Brock's faced is burned from the heat.
"It was Monday night, the sun was about coming up and the storm was starting to clear. And I was like, 'If the next couple days are like this it is going to be rough,'" D'Allessandro said.
It was a harrowing time, but the two tried to stay upbeat.
"He had told me he was scared at one point, and I said, 'You can't think like that, you have to stay positive,'" Besner said.
The two say the rest of the time was spent talking, mostly about their families and what they'd eat when they were rescued.
---
We would follow those tracks thinking they would lead us out, but they lead us in a circle because they were our tracks.
–Brock Besner
---
That rescue came Tuesday evening when a Life Flight helicopter spotted the men. Shortly after, they were back on the ground with their families.
"When I landed I hugged my mom and was like, 'Who are all these people?' And she was like, "All these people are here for you,'" D'Allessandro recalled in disbelief.
Now, things are pretty much back to normal and they're back at work. Things were so hectic Tuesday night they didn't really have time to celebrate their rescue, so now they say steak and a couple cold ones are on the menu.
Despite their experience, Besner and D'Allessandro will be back on the snowmobiles.
"Wife says it's a no go this weekend," Besner said, but they expect to go out again in a couple of week.
Sheriff: Lost pair did some things wrong, a lot right
The Wasatch County's sheriff says the two men who spent three days stranded in extreme weather in the mountains above Heber City did some things wrong, but many things right as they tried to survive.
"With what I witnessed, as bad as the storm was for two days, I was very surprised with the condition that they were in," said Sheriff Todd Bonner.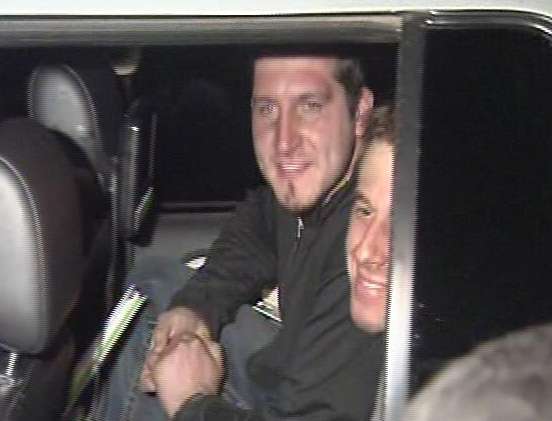 The men were riding in an area they know -- in fact, they go there two times a week in the winter. But this trip, the weather disoriented them. Instead of going west back to their cars, they went the opposite direction.
Bonner said their first mistake was to keep going. When they were found, they estimate they were 50 miles off course.
But the two eventually realized they were lost and stopped before they ran completely out of fuel. "They stayed with their machines," said Bonner.
"Once they did hear aircraft in the area, they did get out and stomp the word 'Help' in the snow," said Bonner, who said the men were some 15 miles away from the area where crews were centering their search.
Though they were not prepared with a lot of gear, the pair managed to do what they needed to survive, Bonner said. But he said they would have been found much faster had they brought an avalanche beacon with them. Besner's family said he had a beacon but had left it at home.
"It's critical that they have beacons, GPS, good gear, food and water, especially if they're going into the backcountry at all," said Bonner.
Relatively speaking, Bonner said they've had fewer incidents this year with people going into the backcountry and getting into trouble. But he doesn't think it's because people are getting smarter. He thinks it's simply a function of the economy, and the fact that fewer people are traveling into those areas.
------
Story written by Sarah Dallof and Marc Giauque.
×
Related stories
Most recent Utah stories