Estimated read time: 4-5 minutes
This archived news story is available only for your personal, non-commercial use. Information in the story may be outdated or superseded by additional information. Reading or replaying the story in its archived form does not constitute a republication of the story.
If you have photos of this wildfire you wish to submit, please send them to photos@ksl.comPHOTOS: Utah Wildfires 2007
Sarah Dallof/AP
Weather forecasters warned of the possibility of high winds into Thursday in the vicinity of the Milford Flat fire after a light rainstorm brought little relief when it passed over the 514-square-mile blaze, the largest fire in the state's recorded history.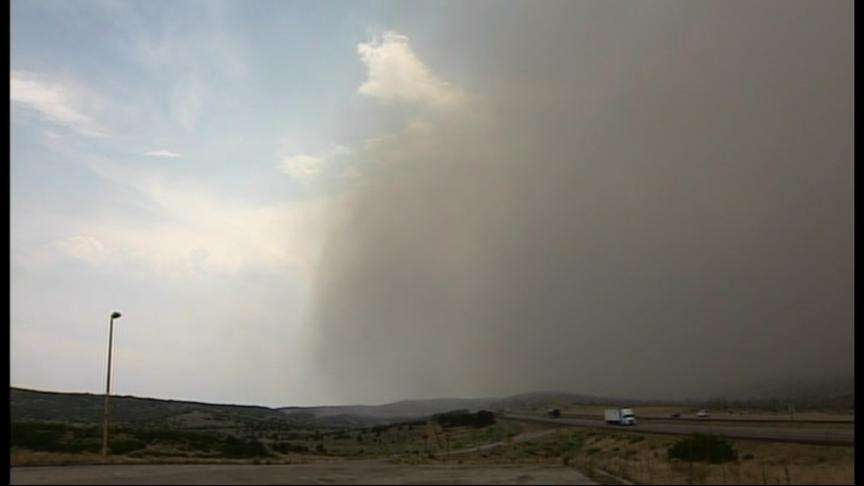 "It isn't going to do much to knock the fire down, but at least it brings the humidity up. That helps them, so the fire won't be as robust," National Weather Service meteorologist Randy Graham said Wednesday.
Less helpful were the wind gusts of up to 40 mph near the central Utah fire that were measured by the Weather Service's Salt Lake City office. The southeasterly weather system also brought some lightning strikes, but none within the fire zone, Graham said.
The wildfire, which was started by lightning July 6, is 40 percent contained. There are about 500 firefighters working on it now.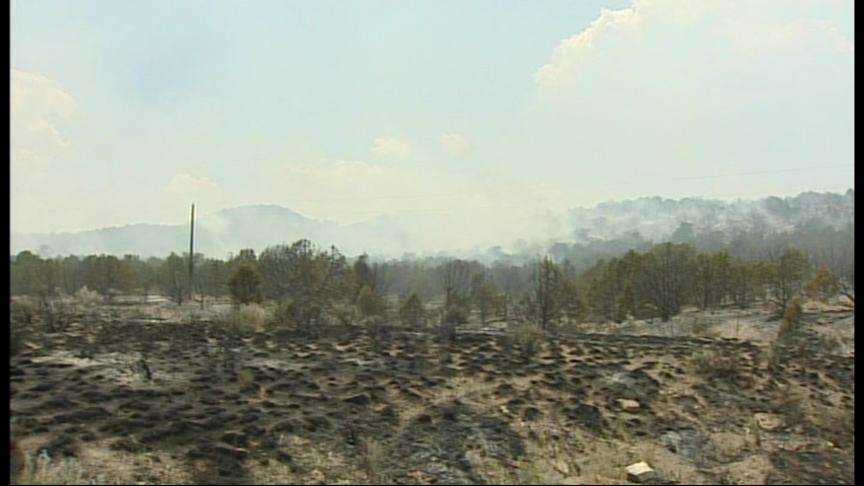 The Weather Service also issued a red flag warning for the region, about 120 miles south of Salt Lake City, meaning that severe fire weather conditions were expected to continue, including strong wind gusts and dry lightning.
The fire was burning actively at its north and southeast ends, said fire information officer Kathy Jo Pollock. A bulldozer cleared a fire break in the north, which crews hope will cut off the flames, she said.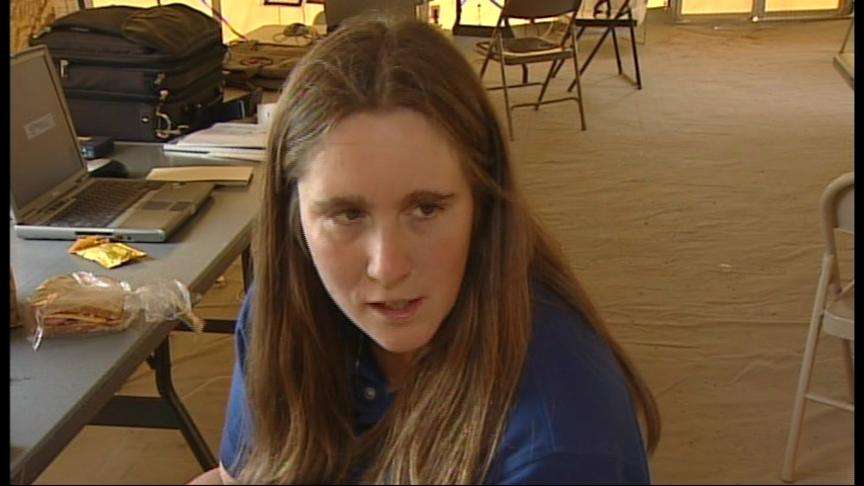 Interstate 15, Utah's main north-south highway, has remained open over the past few days after weekend closures.
For 15 years, Fred Gonzales has trucked the nation's interstates. He told us, "I've seen a truck crash right in front of my eyes. I've seen snow squalls where you couldn't see right in front of you for miles and miles, but I've never seen anything like I've seen on 7-7 of '07."
What he saw on that supposedly lucky day was the Milford Flat fire, a solid wall of smoke across I-15. Gonzales pulled out his cell phone and snapped some pictures. "There wasn't anybody telling me nothing, to come through, nor to stop, nothing," he says.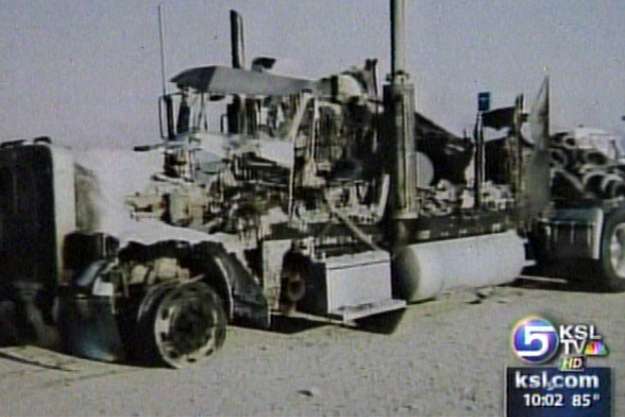 Gonzales drove into the cloud of soot and smoke, and it quickly became a dangerous ride. "The fire was coming out of everywhere. I was just hoping the truck wouldn't die on me while I was going through the flames, and it didn't," he says.
With his truck on fire, Gonzales had no choice than to push ahead. Amazingly, he escaped without injury while his diesel was consumed by flames. He says, "I guess I was lucky 'cuz I'm still alive. My truck wasn't so lucky."
Nearly 500 firefighters are battling the blaze, which is second-highest priority on a federal list of the country's large wildfires, and suppression efforts have cost an estimated $1.1 million so far, according to the National Interagency Fire Center in Boise, Idaho.
The burned acreage is mostly held by the federal Bureau of Land Management and leased for cattle grazing. The loss of that rangeland could devastate some ranching operations, said Ken Ure, a loan officer for the U.S. Department of Agriculture's Farm Service Office in Beaver.
From his forays into the fire zone, Ure said there are places where grazing land has survived.
"The problem is there's just not enough of those spots," said Ure.
Reseeding the burned land will eventually help, Ure said, but land managers typically give fire-damaged areas two years of growing time before allowing more grazing.
With the price of hay already high and expected cattle production low as a result of the fire, ranchers' losses will be significant, he said. A cow can fetch up to $1,500 at market, depending on its size and breeding status, but feeding it could cost upward of $1,000 without cheap grazing land, Ure said.
"There's no way that pencils out," he said. "It could put a lot of them in a financial crisis."
So far, Ure and area ranchers have documented about 120 dead cows.
Floyd Yardley, 61, runs a ranch with two of his brothers. They've been out looking for their cows every day since the fire began but can't yet tell how many cows have been lost.
Of the dead cattle, "Some you can see the brands on, some you can't," said Yardley, of Beaver, who adds it may take until the fall roundup to calculate losses with any confidence.
(The Associated Press contributed to this report)
×
Photos
Related links
Most recent Utah stories