Estimated read time: 2-3 minutes
This archived news story is available only for your personal, non-commercial use. Information in the story may be outdated or superseded by additional information. Reading or replaying the story in its archived form does not constitute a republication of the story.
Ashley Hayes Reporting Today marks six months since the troop surge to Iraq began. But a new report will conclude the Iraqi government has made little progress and hasn't met any of its goals.
According to a U.S. official, the "pivot point" for addressing the matter will come this week instead of in mid-September. But another senior official says the president decided last week there's not enough evidence to change current war policy.
Aides say President Bush will start laying out a post-surge plan today. News of that report has Republicans and Democrats talking about troop withdrawal.
Utah Senators Orrin Hatch and Bob Bennett both say now is not the time to make that decision. Both Senators Bennett and Hatch have said they want to wait for the full report before making any decisions on bringing troops home.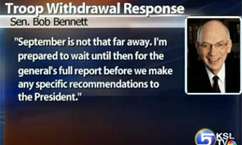 Their sentiments are shared by fellow western state Republican Jon Kyl of Arizona.
"I think they can succeed if we give them the chance," Kyl said. "But it's doubtful they can succeed if we pull the rug out from under them."
On Friday Senator Bennett spoke on KUED's "Utah Now," saying his patience is not inexhaustible but that "September is not that far away. I'm prepared to wait until then for the general's full report before we make any specific recommendations to the president."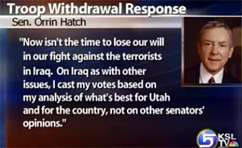 Senator Hatch told the Deseret Morning News, "Now isn't the time to lose our will in our fight against the terrorists in Iraq. On Iraq, as with other issues, I cast my votes based on my analysis of what's best for Utah and for the country, not on other senators' opinions."
But the Republican party is far from united on how to best handle the war, and this progress report could divide more party members on how and if to support the president.
Sen. Olympia Snowe, a Republican from Maine, said, "The president need to understand that the American people's patience has worn out. The time has come."
The Washington Post is reporting Mr. Bush will stress a new message today: that he also wants to bring troops home but cannot call for it as of now.
For the moment, our senators agree.
×
Most recent Utah stories