Estimated read time: 3-4 minutes
This archived news story is available only for your personal, non-commercial use. Information in the story may be outdated or superseded by additional information. Reading or replaying the story in its archived form does not constitute a republication of the story.
*Debbie Dujanovic Reporting*Produced by Kelly JustImagine being told your child is one of the top high school students in the whole country. Naturally, proud parents pay for all kinds of memorabilia to mark the award.
But, as KSL 5 Eyewitness News investigative reporter Debbie Dujanovic discovered, you could be wasting your money.
It's been out for decades -- a book called "Who's Who Among American High School Students." Inside you'll find the best of the best, on pages honoring tomorrow's leaders today.
Says who?
Only a few are chosen to have their excellence recognized. It takes top grades, a flurry of extra activities, and a nomination from an adult leader.
Roberta Mandell bought two copies with her son Mark inside. At the time, she considered it a special honor.
"There are all the nominations since he has graduated from high school," she said.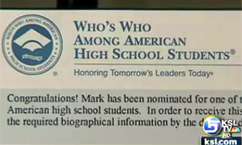 Mark graduated two years ago, but the letters keep coming. Apparently Who's Who didn't get the memo.
"Every year I get one about being in this book," he says.
Example after example of Who's Who getting it wrong. We found three more just around our newsroom.
Producers Scott and Chris were in the book, even spent money on copies. But when they read their profiles, they discovered new things about themselves. Scott suddenly is a member of the German and chess clubs.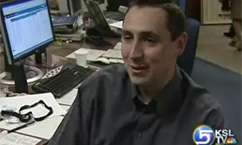 And Chris discovered, "One of my interests was weightlifting. That was news to me because in high school, I was 165 pounds soaking wet. I definitely wasn't a weightlifter."
Graphic designer Kelly Jones got a nomination for son Gavin and a chance to buy the book for $50. He wasted no time calling Who's Who.
"She says, 'Well, it must have been a teacher or faculty member or somebody at the school. He must be really great.' I said, 'He is really great. He's an angel -- literally, because he died when he was two-and-a-half," Jones told us.
Gavin passed away from a staph infection and had never even gone to preschool.
Randy Ripplinger, of the Granite School District, advises, "Buy it if you want, but understand that it's no great honor."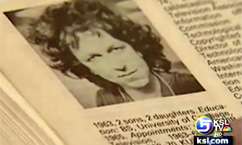 Ripplinger investigated the companies putting out these so-called vanity books. Years ago as a news reporter he put on a wig, mailed a check and got himself into "The World Who's Who of Women." Now Ripplinger warns parents and students.
"It's not about accuracy. It's not about verifiable honors. It's about who is willing to pay the money," he said.
American Achievement Corporation owns "Who's Who Among American High School Students." We called company headquarters in Austin, Texas, about the problems we uncovered.
A company spokesperson said, "Things like that happen, and when you're talking with hundreds of thousands of kids, it's regrettable, but sometimes it happens."
She blamed other groups for sending them bad information. But Kelly Jones now questions the book's credibility.
"They're just saying, 'Hey, let's put somebody's name in a book, you know, and let's sell the book.'"
Then there's the e-mail we just received about Milford Christensen. He was nominated, too!
But, Milford's a cat. His owner sent the name of her 10-year-old cat to a children's magazine. It was just a joke. But seven years later, the Who's Who letter arrived: Milford the Cat, had finished at the top of his class.
No laws have been broken here. However, Mark Mandell's mom was asked to file a complaint with the attorney general's offices in Texas and Utah. There may be more to come.
×
Most recent Utah stories