Estimated read time: 2-3 minutes
This archived news story is available only for your personal, non-commercial use. Information in the story may be outdated or superseded by additional information. Reading or replaying the story in its archived form does not constitute a republication of the story.
SALT LAKE CITY -- Some people who struggle with mental illness are never diagnosed, others not until they are well into adulthood; but unlike those who face challenges with diabetes or even cancer, these people often feel isolated or want to hide because they fear they will be labeled.
Support Groups
Through the Depression and Bipolar Support Alliance:
Tuesdays at 7 p.m., Salt Lake Regional Hospital
Thursdays at 7 p.m., Riverton Library
www.dbsalliance.org
KSL News recently talked to several Utahns who are facing their illnesses with courage and are determined to live productive lives.
Dr. Walt Brodis
Dr. Walt Brodis was 40 when, as a successful internal medicine specialist, he fell apart.
"I was suicidal for about five years, horribly suicidal for five years, pretty much couldn't be left alone," Walt said. "So my wife didn't work. She had to be here with me."
With young children, their lives were turned upside down. But Donna Brodis stayed by her husband's side.
"I had faith he would be strong enough to pull through it because I knew that he had a good character and this was an illness like any other physical illness," Donna said. "The brain is an organ, and sometimes when your brain is sick. You don't always realize it, and you struggle through it, and you push through it."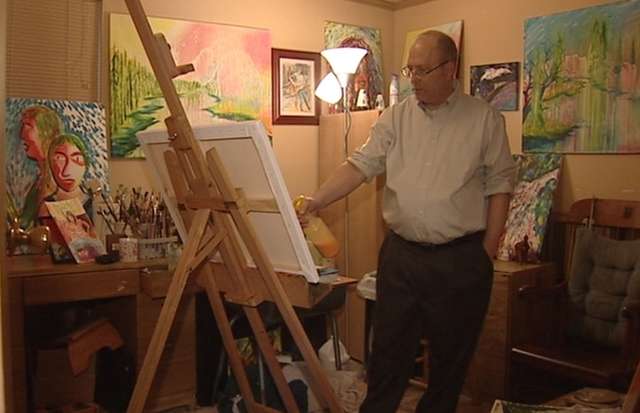 After a diagnosis of bipolar disorder, medications and electroconvulsive therapy helped Walt conquer the severe depression and weight gain. He began looking for a creative outlet and returned to his high school love of painting.
Walt's artwork is so unique, that he has now been invited to participate in an art show in New York City. The Artist Project is an exhibition of fine art from unrepresented international artists.
"Maybe people need to hear that a person like me, who's functional and doing something worthwhile, had a period in his life where he was afraid of himself and needed help," Walt said.
Joe Brodis
Just as Walt's life began improving, his youngest son, Joe, began to have bipolar symptoms.
"It's a very different picture for kids who have bipolar disorder. We recognized what his strengths were and that he could still have a successful life, but we had to do these other things, like he would if he had any other illness, and we tried to be honest with the other kids," Donna said.
Finding help for mental illness ...
Many people don't know where to go for help. The following organizations that have information, including symptoms, classes and help lines:
School is difficult, but medications are helping. Joe hopes someday to design video games.
"Especially for bipolar disorder, you can't give up," Joe said. "But you've got to keep pushing through."
He is grateful for the acceptance he has from friends.
"It's hard for them to understand, but for them to still be my friend, it was awesome," Joe said. "Sometimes I get mad and they deal with that, my friends. They're just there for me."
These families share a great deal of love and acceptance. They still face challenges, but mental illness does not define them.
"As we came to understand about mental illness and the treatments that are available, we saw that there was hope as well," Sherri Wittwer said.
E-mail: cmikita@ksl.com
×
Related links
Most recent Utah stories