Estimated read time: 3-4 minutes
This archived news story is available only for your personal, non-commercial use. Information in the story may be outdated or superseded by additional information. Reading or replaying the story in its archived form does not constitute a republication of the story.
John Hollenhorst Reporting Saturday's most intense moments will go into the record books as one of the biggest firestorms in Utah history.
And now, were going to give you a feel for what it was like to be in the middle of it.
Viewers have sent us some remarkable images of Saturday's firestorm. But Highway Patrol dash-cams, and a home video camera held by a mother of three really take us there.
The Hall family was heading down I-15 in a pickup truck Saturday. Three kids were in the back. Mom and Pop sat up front with a video camera.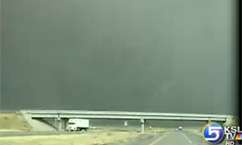 "When we saw the smoke coming, we just kept shooting," said Crystal Hall, who lives in Washington.
According to her husband Jeffrey, "It was really an awe-inspiring event, and something to remember."
It was a bright sunny afternoon, except for a giant wall in the sky ahead of them.
Crystal said, "At first we thought it was just a thunderstorm, until we got closer and we could see the columns of smoke going up."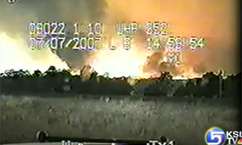 At roughly the same time, Highway Patrol dash-cams caught nightmarish images of flames on both sides of I-15. Another shot shows what appears to be a fire tornado.
A Utah Highway Patrol trooper can be heard saying, "Don't go any farther. It's bad. It's bad."
"We just kept going until the smoke just overtook us, and we just watched ourselves go into blacker and blacker smoke," Crystal said.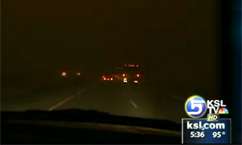 "It just looks dark and evil," she said.
Two-thirty in the afternoon began to look like midnight.
"It was pitch black. We could hardly see people coming northbound. We could barely see the people in front of us," she said.
The Highway Patrol caught fleeting images of a semi on fire. From the Hall's point of view, the fire hid itself completely.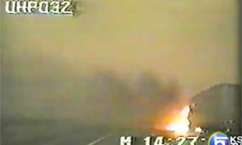 Jeffrey told us, "That dense of smoke and that dark, we knew it was close. I didn't want to be caught on the freeway with it burning right up to it."
"People were just stopped," Crystal said. "They were afraid to keep going."
Later, a sudden wind-shift pushed walls of fire right at the traffic jam, an event their camera missed.
"It jumped the west side into the median, where there were a lot of big trees, and those went up" Jeffrey said. "At that point the flames might have moved 100 yards in a matter of seconds. Just a big wall of flame, and everybody panicked."
Semi drivers disconnected cabs from trailers and made a u-turn. Other drivers abandoned travel trailers.
The Halls saw patrol cars earlier and wondered why they didn't shut down the freeway.
"It was just amazing that we were still going through it," Jeffrey said. "I could not believe that they hadn't stopped us before."
But time codes show troopers were escorting drivers out and scrambling to close the freeway during the Hall family's darkest moments.
A trooper said, "Hey, we're gonna shut down I-15 north, too. They're gonna have to go south."
The Highway Patrol says the timing of road closures was dictated by fire commanders, not the Department of Public Safety.
Amazingly, the Hall children slept through pretty much the whole thing, except when one boy woke up and asked if the sun had set. The parents say they were a little nervous, but more awed than frightened by their experience.
×
Related links
Most recent Utah stories