Estimated read time: 2-3 minutes
This archived news story is available only for your personal, non-commercial use. Information in the story may be outdated or superseded by additional information. Reading or replaying the story in its archived form does not constitute a republication of the story.
Alex Cabrero Reporting"The little girl is the hero here because she had the wherewithal and the understanding to dial 911 and make that call."
This morning a Taylorsville woman was taking down Christmas lights at her home when she fell. Her four-year old daughter knew mom was in trouble and knew to call 9-1-1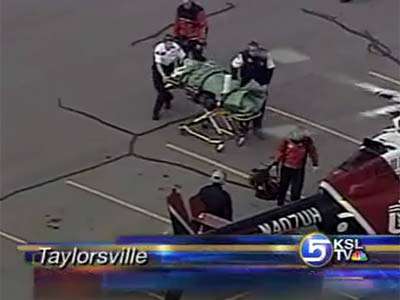 The mom's doing better and is alert tonight. It's good news because it could've been a lot worse, if not for her daughter.
Jessica Holden, Called 911: "I just talked on the phone."
Beth Chadwick, Victim's Sister: "She's four-years old and she called 911 when her mom got hurt. It was very impressive to hear that."
You see, when Jessica saw her mommy fall taking down Christmas lights outside, she knew just what to do.
911 Tape: "My mom fell." "Your mom fell?" "Yeah" "Do you know your address?"
Her mother, 33-year old Erica Holden, couldn't make it to the phone. Her injuries must've been bad because she was unconscious.
911 Call: "Um, she's not talking right now." "She's not talking right now?" "No." "Are you talking to mommy?" "She's asleep." "She's asleep?" "Yeah."
Jessica was able to give enough information to get paramedics to the right house.
Rescue crews say Jessica most likely saved her mothers life.
Larry Marx: "We have a hero in this, it's a little four-year old girl."
One day Jessica will know exactly how important her phone call really was.
Jessica Holden: "My mom just fell on the grass."
Jessica's grandfather used to be a police officer, so knowing how to dial 911 is very important in this family. As for Erica Holden, she's doing better, but again, it could've been much worse if not for her personal hero.
This illustrates how important it is for parents to teach even young children how to call 911.
Dispatchers for Salt Lake City have some suggestions. They say kids need to know what is a real emergency and when to call. Make sure children know their home address, so teams can arrive quickly. And teach kids family members' medical history if someone has diabetes or some other problem, so children can relay that information.
×
Most recent Utah stories