Estimated read time: 2-3 minutes
This archived news story is available only for your personal, non-commercial use. Information in the story may be outdated or superseded by additional information. Reading or replaying the story in its archived form does not constitute a republication of the story.
John Hollenhorst ReportingLt. Shawn Judd, UHP: "You know this is just the tragic outcome. If this was the driver's intent, to make a u-turn on the interstate, this is why it's illegal, because of the sheer danger involved."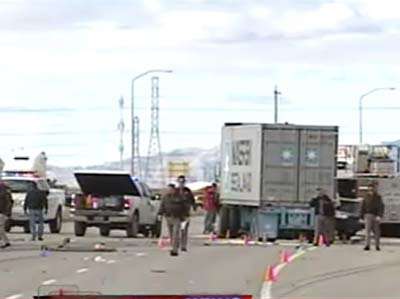 The driver of a pickup truck and his wife paid a terrible price for what appears to be a mistake in judgment, an illegal u-turn directly into the path of a semi. The accident happened a little before noon in the westbound lanes of Interstate-80 near the Salt Lake Airport.
A short trail of skid marks and debris shows the driver of the semi had only a split-second to react. A pickup truck was folded around the front of the semi, crushed like a cardboard box.
Sgt. Mike Wells, UHP: "The crush factor is pretty, pretty severe on this one. Very unlikely that anyone would have come out alive on this one."
In the violently compressed front seat, the pickup driver, 55-years old James Osborne, died instantly, his wife, 53-year old Catherine Osborne, shortly after.
Investigators believe they somehow got confused in the I-80 interchange near the airport. They evidently missed a turnoff or got on the wrong ramp. Witnesses say they attempted an illegal u-turn through the median. The westbound pickup driver turned south, traveling directly across several westbound lanes.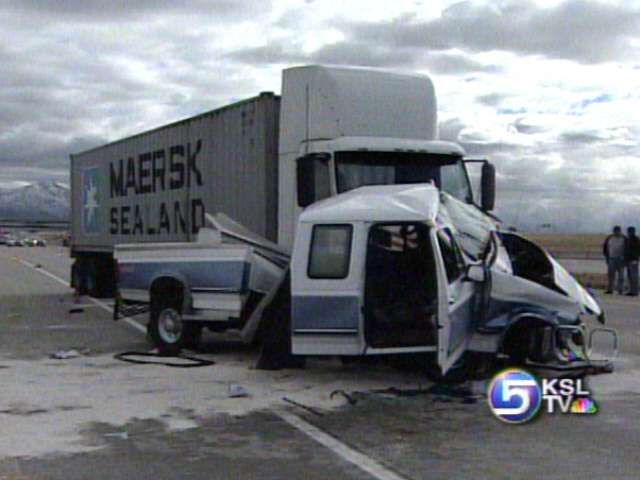 Lt. Shawn Judd: "It appears that if that's the maneuver he was attempting to make, that he didn't see the semi that was also traveling westbound. And that westbound semi hit that truck broadside."
Sgt. Mike Wells, UHP: "Lesson is, if you miss your turnoff, there's always another one just ahead. You know, take that next off ramp. It's gonna take you a few extra seconds, but it's gonna save your life."
The accident caused some delays near the airport. Incredibly, the Highway Patrol had to post a trooper at a grassy median because so many aggravated drivers were making their own illegal u-turns. Troopers were amazed at the dangerous disrespect for the law.
Sgt. Mike Wells, UHP: "It's exactly the same reason why we're out here now. Like I said, take five extra seconds, go to the next off-ramp, and get turned around."
The accident was cleaned up this afternoon. All the traffic lanes are now back to normal.
The driver of the semi-truck was uninjured.
×
Most recent Utah stories