Estimated read time: 2-3 minutes
This archived news story is available only for your personal, non-commercial use. Information in the story may be outdated or superseded by additional information. Reading or replaying the story in its archived form does not constitute a republication of the story.
Amanda Butterfield reporting Weather took many parts of Utah by surprise Monday. Fierce winds knocked down trees and worse in Southern Utah. And in Utah County, sudden snow caught drivers and the Utah Highway Patrol off guard.
Trooper Mason Haycock: "I don't know that we anticipated, from the highway perspective, that we'd have this kind of problem."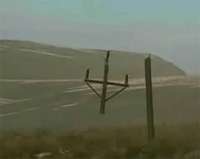 In St. George, it's surprising to have thunderstorms in December. But one came through just before 3:00 Monday afternoon, with a gust recorded at 97 miles per hour.
The fierce winds snapped ten power poles. Carports and a portable building were also damaged. The temperature dropped 19 degrees in 40 minutes.
Depending on where you were, the weather may have been very winter-like with snow and cold temperatures, or spring-like, with the sun shining.
Really, it seemed that everywhere, the weather was unusual.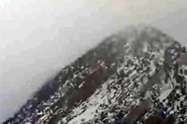 We had snow.
Bruce Grable/Skier: "I was up at ten thousand feet where it was really in the clouds, and really a blizzard."
Rain, sun...
Deputy Mark Olsen: "I just came down out of Cottonwood. The sun was shining. It was fine."
And wind. There was a little of it all on Monday.
Deputy Mark Olsen: "That's bizarre, but Utah weather."
Deputy Olsen was patrolling Big and Little Cottonwood Canyons. When he was up high, it was a mess.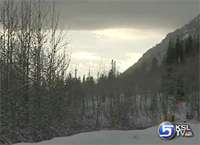 Deputy Olsen: "We've been having lots of problems on the roads, lots of crashes. Just a bad day to drive in the canyons."
But a few miles down the road, where Rodney Rasmussen was biking through, it was fine.
Rodney Rasmussen/Biker: "Real pleasant."
Though by the time Rodney made it home, the rain was coming down.
Up Spanish Fork Canyon, it was snow coming down.
Trooper Mason Haycock: "Put down a lot of snow pretty quickly."
About seven semis got stuck going up the mountain, and twice as many cars. Take a look where one driver ended up.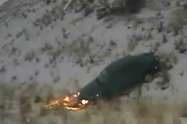 Trooper Mason Haycock: "As speeds picked up she lost control, came into oncoming lanes."
She's going to be fine. And whether you were driving in the snow, rain, or wind, the message is the same:
Trooper Mason Haycock: "We just need people to slow down, get there safely, and allow a little bit of extra time."
And if you're heading up Little or Big Cottonwood Canyons, chains or four wheel drive are required.
×
Related links
Most recent Utah stories