Estimated read time: 2-3 minutes
This archived news story is available only for your personal, non-commercial use. Information in the story may be outdated or superseded by additional information. Reading or replaying the story in its archived form does not constitute a republication of the story.
Gene Kennedy reportingThis Christmas day a Nephi woman is fighting to keep hope alive, and her family is helping in that fight with a gift of hope.
DeAnn Baxter has a life-threatening illness. Hope is the key to beating it. Her family knows that...and they've given her a present that reminds her of the good 'ol days.
De Ann Baxter's Christmas gift came wrapped in this delivery wagon.
De Ann Baxter / Received horse for Christmas: "Just overwhelmed, wonderful parents."
To understand why this horse is so special you have to go back 20 years.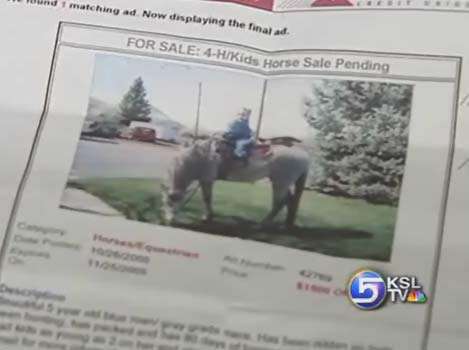 De Ann used to ride a horse just like the one she received today: A horse named Blue. Her pride and joy in local 4-H shows.
But three years ago, the horse broke its' leg…the riding stopped…vets put Blue down.
De Ann Baxter / Received horse for Christmas: "It's just like losing one of your family. You've been raised with him."
Fast-forward to February 2005, doctors find a cancerous mole on DeAnn…melanoma. Even worse, it spread to her lymph nodes and eventually her liver. Through it all, Blue was gone.
But then one day, an internet search. On ksl.com, DeAnn found an ad for a horse. It looked just like her old friend and to her amazement, his name was Blue.
Debbie Sperry, DeAnn's mother: "You must have been beside yourself. Yep, it was pretty neat."
De Ann planned on buying the animal but someone already did. So De Ann's mother, Debbie stepped in. She was a mom on a mission.
Debbie Sperry, DeAnn's mother: "I told her to call that woman and name her price...I'll sell my house to get that horse for my daughter." (reporter question: 'So the owner was willing to part ways with the animal?') "It's the Christian thing to do, it's right."
And Debbie figured a new horse named Blue could keep De Ann from feeling blue during her battle with cancer.
Debbie Sperry, DeAnn's mother:"Get her through another day because this treatment is horrendous."
DeAnn Baxter, Received horse for Christmas: "(reporter question: 'What does this mean to you? ') "Probably more than words...something to do."
Hope found in a horse...and hope that Christmas is more powerful than cancer.
KSL previewed DeAnn's story just a few days ago. When her mom went on television, she knew she took a chance, but banked on the fact that her daughter is NOT an avid news watcher.
Well...people in Nephi certainly saw the story, but in the Christmas spirit, they didn't say a word so De Ann could savor the surprise.
×
Most recent Utah stories