Estimated read time: 2-3 minutes
This archived news story is available only for your personal, non-commercial use. Information in the story may be outdated or superseded by additional information. Reading or replaying the story in its archived form does not constitute a republication of the story.
John Hollenhorst and Courtney Orton ReportingResidents in eastern Utah have many questions about a massive wildfire near Neola.
That fire is still burning, but officials say the threat to homes is diminishing. The blaze is 10 percent contained, and the fire is reportedly moving in a good direction.
Fire officials say the wildfire is steering away from homes and into forests that might benefit from it.
But evacuated residents are accusing officials of being slow to respond when the fire was small. Rumors have circulated that the local fire department was initially prevented from going on Indian land to fight the flames.
But local fire departments say when they were called out, they got to work immediately.
Uintah County Commissioner Mike McKee said, "When they were called out, they were able to have instant access to the properties."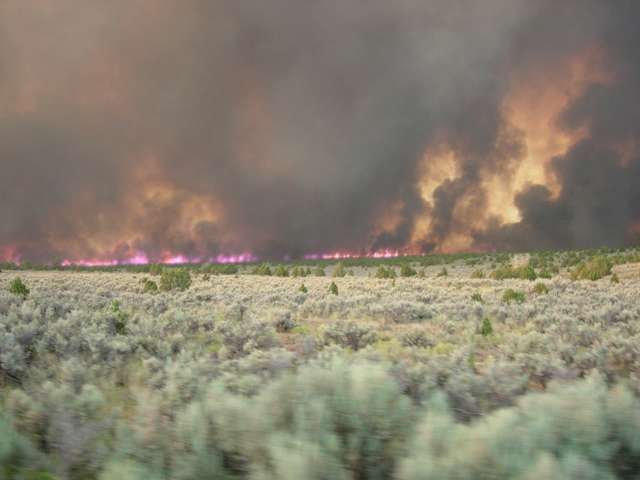 And Mike Lefler of the Duchesne Fire Department said, "We immediately got our gear on and went to work on the fire and was working on it as hard as we could. Everybody did a good job trying to help each other."
Evacuated residents believe the fire could have been contained much sooner. Most of them have gone home now, but they gathered last night at a meeting hall in White Rocks where they asked for answers.
Barry Atkins said, "Well, I watched the fire start, and it just continually grew out of control."
Another White Rocks resident, Orlanna Taveapont, said, "It could have been stopped before it got out of hand."
Conditions are so dry, experts say there's 100 percent probability of ignition. They also say the fire is so extreme it's creating it's own weather.
The Utah National Guard is camped out in Roosevelt. Guard members are helping control traffic at roadblocks in the Unitah Mountains.
Fire officials say the strategy is to continue to protect populated areas but to let the fire burn dead trees in the Ashley National Forest in Uintah and Duchesne counties.
Since Friday, when three people were killed, the Neola North fire has burned 35,000 acres, about one-third in the national forest and the rest on a mix of private and public lands and the Uintah and Ouray Indian reservations.
(The Associated Press contributed to this report)
×
Related links
Most recent Utah stories