Estimated read time: 3-4 minutes
This archived news story is available only for your personal, non-commercial use. Information in the story may be outdated or superseded by additional information. Reading or replaying the story in its archived form does not constitute a republication of the story.
Tom Kirkland and Kathy Aiken ReportingA locker room leader for the Utah Jazz is leaving the team. The move comes as Derek Fisher's recent family struggles made headlines and endeared him to Jazz fans.
Late this afternoon the Jazz's recent run of team-building took a stunning turn. The team is granting veteran Derek Fisher's request to be released from his contract so he can seek better on-going care for his infant daughter Tatum, as she continues to battle a rare form of eye cancer.
"Right now, basketball is not a priority," Fisher said. "I don't have any plans to retire from basketball. But at this point the considerations for Tatum medically are what we will pursue in securing first and foremost."
The NBA says Fisher's exit is unprecedented. He's walking away from the $21 million the Jazz still owe him, in return for his freedom to pursue better care for his family.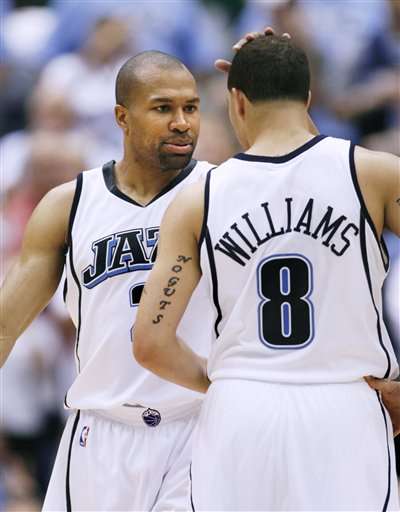 "You have to kind of go through that process of finding who's best for us, in terms of what we need, and where that is. We'll make decisions that follow from there," he said.
"A lot of times sports fans and people that enjoy watching our team play don't quite get a sense of the fact that we're all human, and that we all have lives outside of what goes on on the court," Fisher explained.
"It became very apparent to me that Utah Jazz fans have that understanding," he said. "They understand that there's more to life than basketball and sports. That's why we're sitting here today."
Team owner Larry Miller said, "Perhaps those of us that pay attention to what's going on here can learn something about character and integrity and honesty. So for that, Derek, I thank you."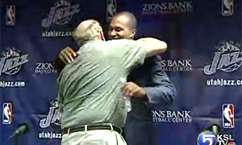 Ironically it was almost exactly a year ago that Fisher was here in a trade from Golden State. But today, it was a much different situation.
A press release says, "Utah Jazz Senior Vice President of Basketball Operations Kevin O'Connor announced today that guard Derek Fisher has requested that the team release him from his player contract due to his daughter Tatum's ongoing medical condition." She was diagnosed with eye cancer during the playoffs.
The press release says Derek will pursue an opportunity as a free agent with a team in a city that has highly specialized medical facilities, in order to get the best possible care for his daughter.
Larry Miller said, "Derek has contributed greatly to the Utah Jazz organization, and we are reluctant to see him go."
Under the rules of the collective bargaining agreement, it says a player contract cannot be amended during the moratorium, which is where we are right now until the end of July. So the Jazz will enter into an agreement to release him from his contract as soon as that collective bargaining agreement comes to an end.
Fisher has played in the NBA for 10 years but only one with the Jazz.
During the Western Conference Finals he averaged just under 10 points a game.
×
Related links
Most recent Utah stories