Estimated read time: 5-6 minutes
This archived news story is available only for your personal, non-commercial use. Information in the story may be outdated or superseded by additional information. Reading or replaying the story in its archived form does not constitute a republication of the story.
John Hollenhorst Reporting The big wildfire in eastern Utah that killed three people late last week shows no signs of dying down. But it's generally moving in a good direction, so the threat to homes is diminishing.
Tonight, many evacuated residents are angry, wondering why the fire wasn't put out the day it started.
The latest entry into the action is the Utah National Guard. They're encamped at an elementary school in Roosevelt, and they're just beginning to pull shifts stopping traffic at roadblocks into the Uintah Mountains.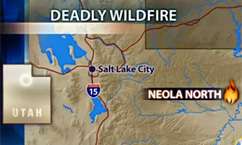 That's where most of the fire is. But emotions haven't cooled in the flats below.
As the fire marches into the forests of the Uintah Mountains, it's racing across treetops and exploding into the sky.
Marc Mullenix, an incident commander trainee, said, "The fire behavior is so extreme it's creating its own weather."
Still, experts say the threat has generally diminished. The fire is steering away from homes and into forests that might benefit from fire.
But as towering smoke plumes rose over a meeting hall in White Rocks, evacuated residents -- who have mostly returned home -- wanted answers.
Barry Atkins said, "Well, I watched the fire start, and it just continually grew out of control." He wants answers on why that happened.
Another White Rocks resident, Chelli Rich, said, "We were over there when the flash fire came over the mountain. It was my family that it killed."
Orlanna Taveapont felt, "It could have been stopped before it got out of hand."
But officials deny they were slow to respond when the fire was tiny. They refuted rumors that local fire departments were initially prevented from going on Indian land.
Uintah County Commissioner Mike McKee explained, "When they were called out, they were able to have instant access to the properties."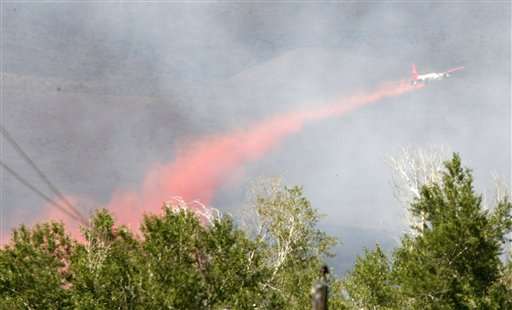 Mike Lefler, of the Duchesne Fire Department, added, "We immediately got our gear on and went to work on the fire and was working on it as hard as we could." "Everybody did a good job trying to help each other."
Experts say conditions are so dry, containing any fire is tremendously difficult.
"We have 100 percent probability of ignition," Marc Mullenix said. "That means if you have 10 embers in your hand and threw them on the ground, you'd have 10 fires."
We asked resident Chelli Rich if she blames anyone for it. "I don't know," she responded. "I hope there's never anybody I can blame for it."
Firefighters are protecting homes and infrastructure and trying to contain the fire on the west, south and east flanks. But they are not fighting it on the north flank. That's because it's burning through beetle-killed deadwood, and creating a mosaic of living hardwoods.
Fire Information Officer Brenda Bowen says, "So it's burning around those hardwood pockets. It's doing something that the forest is happy with as far as how it's burning. So we're monitoring that. We do have resources there so that we can respond if it does go outside of something that they're looking for."
Fire Operations Section Chief Jay Esperance adds, "They're utilizing the fire to meet some management objectives. In other words, using it to clean up some of this dead stuff. So they are happy with the results of the fire. The objective is to herd the fire into the forest where it will provide good." He said there is no goal to contain the fire on its northern flank.
Other officials took issue with that, revealing how sensitive this topic is. They emphasized to reporters they have not adopted a let-it-burn policy. They say they will try to contain the northern flank of the fire once the other firefighting priorities have been taken care of, though they can't say when that will be.
Every time you think the fire is beginning to die out the afternoon heat brings it back to life. This thing is still not out after burning its way across 30,000 acres. National Guard troops moved in today to help with roadblocks, but the overall concern has fallen off sharply because the blaze is more or less heading north, into the Uintah Mountains. That means it's moving away from homes which are mostly down in the flats.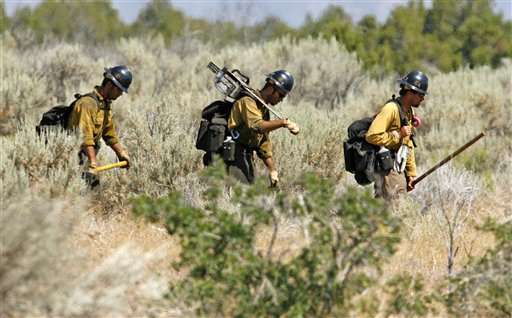 There are still threats to some homes in the canyons; they're getting protection from firefighters. But most evacuated homes are now safe, and most residents returned home this morning.
Some campgrounds in the Uintahs are still evacuated. A few people who left their encampments Friday and Saturday got road blocked out of their campsites when they made a trip back into town.
Camper Ruthanne Hardinger says, "Yeah we were up there camping in the Uintah Campground. And we still have two trailers and a pickup up there. We were going to have a big-old family get-together, and now we just watch the fire burn and hope for the best. This Fourth of July did not turn out like we'd like it to be."
Another worry is from ranchers who have livestock in burned areas and haven't been able to check on them. We spoke with one rancher who is pretty worried, but he says initial reports seem fairly optimistic.
Many roads and large sections of forest remain closed. That will be a complication for recreationists. So if you're planning to go into the Unitahs, check first with the Ashley National Forest.
Despite the severity of this fire, locals are enjoying the annual Neola Community Celebration. It features three days of rodeos, a parade, cowboy poetry of course, and a couple of big public dinners, including a locally famous chicken barbecue with a secret recipe for chicken. Many of the people making preparations knew the people who died.
Neola Resident Jennifer Rook says, "There's been mixed emotions. Some people say we're crazy and shouldn't go on. But yet most of the community says let's do it. We don't want to cancel. You know this is actually really good for the healing of the community. It's something we need right now. All of these kids behind me, it's been a tough week. Yesterday everybody was kind of a mess. But this is just really good. Good for the healing of the community."
It's a 77-year tradition they weren't about to let go just because of a nasty fire. And they were so happy today when Cafe Rio donated 500 free meals and the local organizers decided to make their Dutch oven dinner free as well. By the end of the night, there should be a lot of very satisfied customers.
×
Photos
Related links
Most recent Utah stories