Estimated read time: 2-3 minutes
This archived news story is available only for your personal, non-commercial use. Information in the story may be outdated or superseded by additional information. Reading or replaying the story in its archived form does not constitute a republication of the story.
Courtney Orton ReportingA raging wildfire is burning out of control and growing by the minute in Duchesne County. But today some evacuated residents are going to be allowed to go home.
Residents living in White Rocks can return home this morning, after the fire forced them from their homes. Residents in surrounding areas will only be allowed back temporarily to get critical belongings.
Last night Governor Jon Huntsman activated soldiers with the Utah National Guard to help authorities in the area of the fire. More than 100 soldiers will work to contain the Neola fire.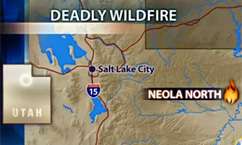 While the threat to homes has somewhat diminished, the fire is only 5 percent contained. So far, it has consumed about 30,500 acres, burned at least five homes and killed three people. Fire officials say they wouldn't be surprised if the fire burned all summer.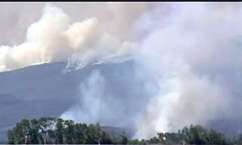 Fire Incident Commander Kim Martin said, "Well, the potential is there. We have dry fuels. There's timber up there that has a lot of beetle kill."
While firefighters have substantially reduced the threat to homes and towns, there's still concern for Dry Fork Canyon, with 150 homes. FEMA issued a press release, saying Dry Fork could be threatened by Tuesday.
Brendan Parrill is a resident of Dry Fork Canyon. He said, "It would be pretty bad if it lit this hill on fire, because we have that propane tank out here, and it leads into our house. So it would pretty much just blow our house up."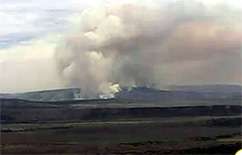 Ashley National Forest is closed due to the fire, and the Bureau of Land Management is looking for campers and outdoor recreators who may have been trapped.
A Neola man says he could have put out the fire when it started. He says it was the size of a small house. But he and a co-worker were denied access by a Ute tribal member.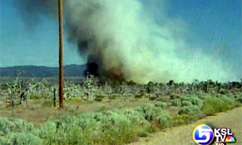 The Bureau of Indian affairs says for safety reasons they never allow untrained civilians to fight wildfires. Firefighting veterans say every fire starts small. We still don't know what happened Friday morning when the fire broke out.
We've also learned that funerals for the victims will begin on Thursday morning. That's when the father and son killed in the blaze will be buried in Roosevelt.
×
Related links
Most recent Utah stories