Estimated read time: 4-5 minutes
This archived news story is available only for your personal, non-commercial use. Information in the story may be outdated or superseded by additional information. Reading or replaying the story in its archived form does not constitute a republication of the story.
Independent findings give a conflicting account of that fatal Utah State University van crash last summer. The Deseret Morning News has obtained a copy of the report by the Department of Risk Management.
The new data claims the van, traveling on Interstate 84, was going 80 to 85 miles an hour. That contradicts the Utah Highway Patrol's position.
Troopers say the van was going well over 95 miles an hour.
---
Earlier
Gene Kennedy Reporting
A survivor from September's deadly USU van crash is regaining his memory of the wreck, and his account conflicts with what investigators are saying.
Earlier, Robert Peterson said, "The last thing I remember is looking back at the shed that the combine was in, and getting into the van."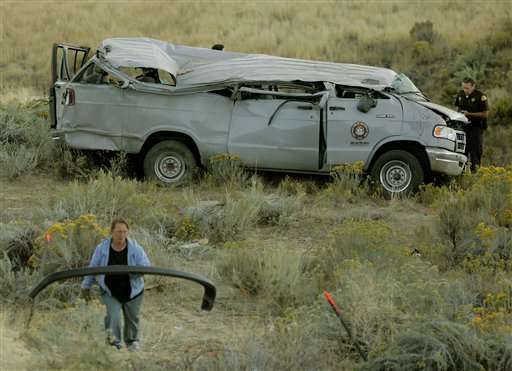 Now Robbie Peterson tells KSL he remembers that violent van crash along I-84 like it happened yesterday. He says he and at least four others in the van were wearing seatbelts.
Robbie Peterson, van crash survivor: "I just feel as the only person who survived and can talk from the van, that I have a duty, I guess to represent and speak for them and kind of defend them."
In early October, Peterson told Eyewitness News the impact of that crash was so severe he couldn't remember what day it was. That was not surprising, considering all 11 people in the van, including Petersen, were ejected.
Petersen was returning to USU in a 15-passenger van with nine of his classmates and their instructor, Evan Parker, from an agriculture field trip near Tremonton in Box Elder County. Investigators said the left tire blew out, causing the van to skid out of control and roll at least four times.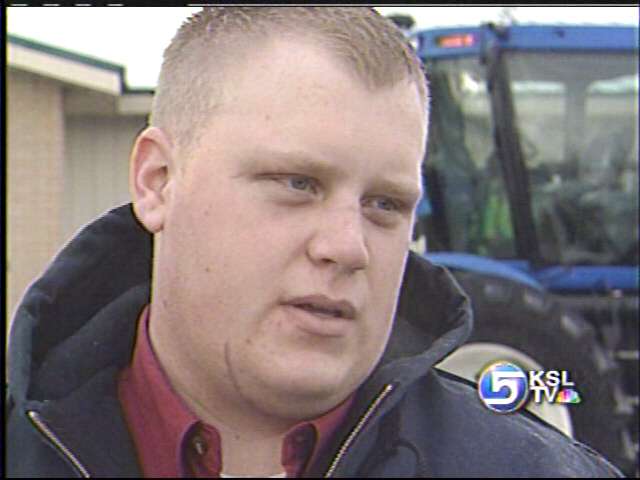 All 11 occupants were ejected from the vehicle, and police later said Parker was driving 95 mph to 100 mph before the tire failed.
Robbie Peterson challenges that. He says he has his memory back and has a different recollection of what happened.
Peterson says he buckled up and saw four other passengers wearing their seat belts, with one of those passengers right in front of him in the van.
Robbie Peterson, van crash survivor: "Dusty Furhman was sitting by the sliding door in the van, and I distinctly remember seeing his shoulder strap stretched out, because he was leaning forward."
The highway patrol stands by its belief that no one had their seat belt on. Investigators say there's no evidence the seat belts were worn down or damaged.
As for speed, UHP says eyewitnesses clocked the van at 95 miles and hour and the accident scene supports that perception.
Robbie Petersen couldn't see the speedometer, but says he would have noticed if the van was flying by other cars. He believes the driver was going about 75 miles an hour.
Robbie Peterson, van crash survivor: "Evan was one of the most respectful men I have ever met. We don't want people thinking that, in a sense, this guy took those boys to their deaths because he didn't. That was one of the last things that he would ever want to do. I would especially like to clear his name, because he was one of the most respectable, responsible men I had ever met."
USU officials also find it hard to believe the driver was going 95 miles an hour, but speeding is not unusual on that part of Interstate 84.
Petersen's parents said previously that there had been bruises on his body consistent with seat belt use. The other survivor, Jared Nelson, 22, had a rash across his lap and bruising diagonally across his chest, his father, Brent Nelson, said.
Not long after the crash, UHP investigators said physical evidence proves otherwise. Investigators looked for several signs of stress on the seat belts. UHP says it couldn't find any evidence. Given that, and the fact everyone was ejected, troopers are standing by their conclusion.
"We found no evidence to show they were wearing seat belts," Utah Highway Patrol Trooper Jeff Nigbur said Wednesday. "Obviously, we know that makes family members feel bad, but we're law enforcement and we have to be true to the evidence we find."
Robbie Peterson's response is, "chances are if one seat belt fails, all the seat belts in the vehicle failed."
Now there is word of an independent report from Utah State Risk Management. Some have heard the report states the van was traveling around the speed limit but no one's actually read the report.
Risk Management can not comment because the issue is in mitigation.
Robbie Peterson also questions whether the families of the victims have received a proper financial settlement from the state. The state caps settlements at a certain number no matter how many accident victims there were. Peterson's family is pushing for that law to change.
(The Associated Press contributed to this story.)
×
Most recent Utah stories